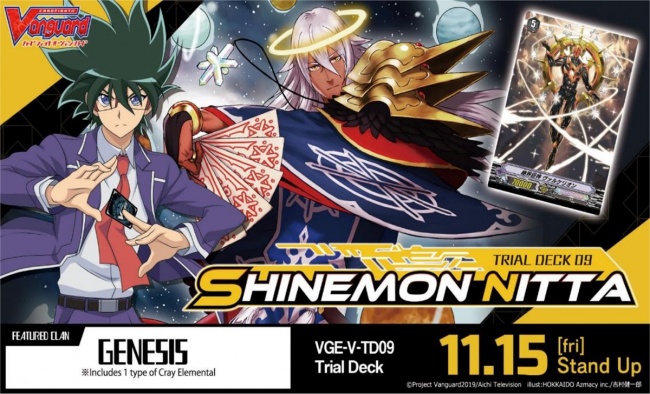 In November, Bushiroad will launch the
Infinideity Cradle
expansion with the
Shinemon Nitta Trial Deck
releasing on the 15th followed by the
Infinideity Cradle Booster Pack
releasing on the 22nd.
Based on the character of the same name in the Cardfight!! Vanguard animated series, the Shinemon Nitta Trial Deck will be a 50-card pre-constructed deck featuring 16 different card types, including 10 new cards and 6 reissue cards. This deck introduces the first Grade 5 unit to the game as well as a new Astral Plane mechanic. Some of the cards will have a special RRR treatment, including one random card in each deck. In addition to the cards, each deck will come with a playing guide, playmat, 5 Gift Markers, and 1 Astral Plane Marker.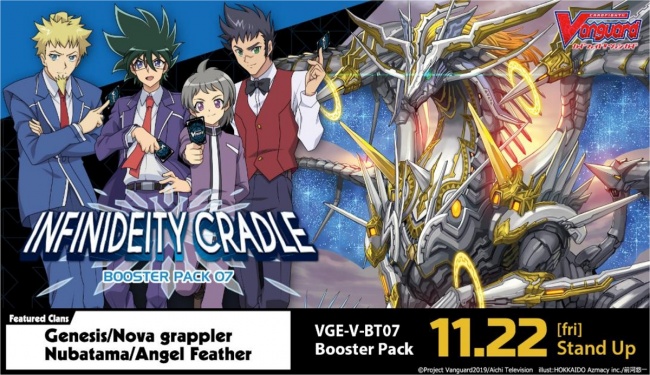 The
Shinemon Nitta
deck is designed to work best with the other
Infinideity Cradle
cards included in booster packs releasing one week later. The complete set has 80 card types, with 67 new cards and 13 reissue cards featuring the Genesis, Angel Feather, Nubatama, and Nova Grappler Clans. The cards will be packaged in seven-card booster packs, and each pack will have two R or higher rarity cards. Each 16-pack display box will also include 3 Gift Markers. In addition, each box will have one of 24 random PR cards, each featuring a different Clan.
Click Gallery below for cards from the deck and boosters.
To support the launch, Bushiroad is offering the Infinideity Cradle Sneak Preview Kit to participating retailers. Each kit comes with 39 boosters, nine promotional cards, and two premium playmats, enough materials for eight participants. Sneak Preview events can be held during the weekend of November 15-17.
Cardfight!! Vanguard continues to be a solid seller for Bushiroad, ranking number eight on ICv2's list of top-selling collectible games last spring (see "Top Collectible Games--Spring 2019"). Infinideity Cradle will release about a month after October's Raging Tactics (see "'Destructive Roar' Clans Return to 'Cardfight!! Vanguard'").