Just in time for Halloween, Goodman Games will offer the first two titles in its new
Dungeon Crawl Classics Horror
line:
Creep, Skrag, Creep!
and
The Sinister Sutures of the Sempstress
, both releasing in early October.
The new series of adventures adds a terror-themed twist to the Dungeon Crawl Classics retro-style role playing game, similar to the Halloween releases the company offered in the past. Unlike those holiday-timed offerings, the DCC Horror series will be supported year round.
The first title in the new line will be Creep, Skrag, Creep, written for 0-level characters. In this yarn, the players find themselves aboard a drifting ship whose entire crew has vanished. They must solve the mystery before the stalking horror responsible devours their souls. MSRP is $9.99.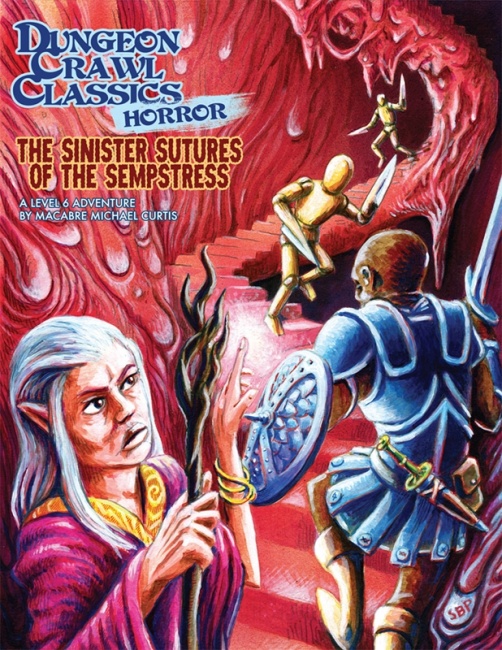 The second book will be an updated version of 2016's
The Sinister Sutures of the Sempstress
, with new cover art and new illustrations. This adventure for level 6 characters draws the heroes into the otherworldly prison of the Sempstress, who seeks to unravel reality itself. MSRP is $9.99.
Both books are intended for use with the Dungeon Crawl Classics game.
Earlier in the year, Goodman announced an updated version of The Chained Coffin adventure series as well as its retrospective version of the classic Dungeons & Dragons module Expedition to the Barrier Peaks (see "Goodman Unleashes 'The Chained Coffin'").