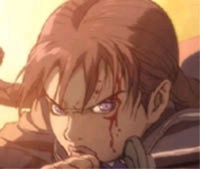 Manga Entertainment announced today that Blood, The Last Vampire, Japan's first fully digitally animated feature film will receive a limited theatrical release at select theaters this summer. Manga has delayed the DVD/video release of the film until August 28th. Diamond and several other distributors solicited the film for a July video release, but the theatrical showings have pushed this back until the end of August.
Blood, The Last Vampire was produced by Production IG Studios, the same company that animated Masamune Shirow's Ghost in the Shell. Mamoru Oshi, the director of Ghost in the Shell, supervised the production of Blood, which was directed by Hiroyuki Kitakubo, who began his film career as an animator on the classic science fiction anime Akira. Both visually and aurally, Blood the Last Vampire represents the cutting edge of current anime. Kunihiko Ikuhara, the director of Sailor Moon, commented, 'Just the sound production of this work itself might change the future of Japanese animation.'
Of course, the best way to capture that great soundtrack is on DVD and Manga has enhanced the DVD with Dolby Digital 5.1 Surround Sound.

The DVD also includes a special documentary feature, 'The Making of Blood' as well as 16X9 anamorphic transfer, image gallery, original Japanese theatrical trailers, web links, and DVD-ROM content.

Blood, The Last Vampire will also be available on VHS.