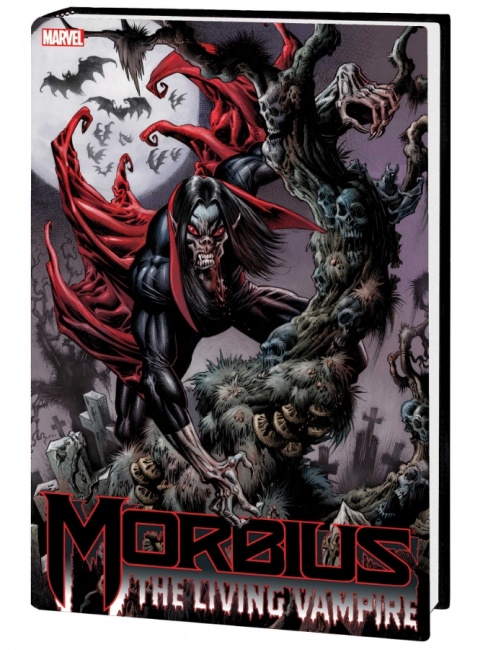 Marvel Comics announced details on the upcoming
Morbius: The Living Vampire Omnibus
ahead of the titular character's silver screen debut (see "
'Ghostbusters,' 'Morbius' Get Release Dates
").
Dr. Michael Morbius was a brilliant scientist cursed by an experiment gone wrong. Morbius now lives with the beating heart like any other man, but he is possessed by an unquenchable thirst for blood. Marvel's super hero world becomes a world of horror and the supernatural as Morbius tackles heroes, cultists, and demons alike. The hardcover collection brings together Morbius' origin and earliest appearances, as well as rare stories, with stories written by Steve Gerber, Don McGregor and Doug Moench with Roy Thomas, Gerry Conway, and more. Gil Kane, P. Craig Russell, Frank Robbins and Rich Buckler with Ross Andru, Arvell Jones, and Sal Buscema provide the art in the book. The book will feature covers by Kyle Hotz and Gil Kane.
The 864-page hardcover collects
Amazing Spider-Man
(1963) #101-102,
Marvel Team-Up
(1972) #3-4,
Fear
#20-31,
Giant-Size Super-Heroes
#1,
Marvel Premier
#28,
Marvel Two-In-One
(1974) #15,
Peter Parker, The Spectacular Spider-Man
(1976) #6-8 and #38, and
Savage She-Hulk
#9-12. It also includes material from
Giant-Size Werewolf
#4,
Vampire Tales
#1-5, #7-8 and #10-11, and
Marvel Preview
#8.
Morbius: The Living Vampire Omnibus HC
will release in May 2020, with a MSRP of $100.00.