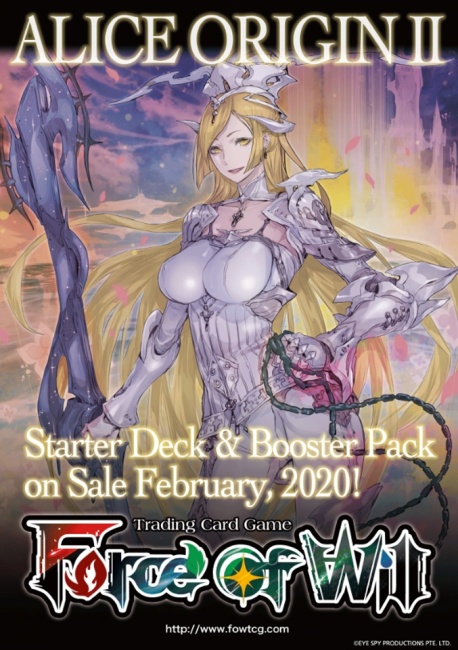 Force of Will, Inc. will release
Force of Will: Alice Origin II
on February 21.
This booster set will feature 166 cards, including 26 Normal; 19 Rare; 19 Super Rare; 63 Memorial; 10 Basic Magic Stones; 2 tokens; 9 life counters; and 18 Coin cards. A limited Buy-A-Box PR Ruler card will be available as a preorder bonus. Every Alice Origin II booster includes 10 cards, with each box containing 20 packs. Each carton will contain 8 boxes.
The Alice Origins II: Valentina Starter Deck and Alice Origins II: Pricia Start Deck will release along side the booster set. Each starter contains 61 cards, including a Ruler card; 6 kinds of Resonators (4 copies of each); 3 kinds of Chants (4 copies of each); a Regalia (4 copies); 2 kinds of Special Magic Stones (4 copies of each); Basic Magic Stone (2 copies); and a Stranger deck featuring 5 kinds (2 copies each). Each display comes with 5 decks, and every carton contains 8 displays.
Retail stores that wish to host a Force of Will: Alice Origin II prerelease can order the Alice Origin II Prerelease Kit. Each kit contains 60 packs of Alice Origin II, 12 copies of a prerelease special PR card, and 2 prerelease special playmats. The set's prerelease is scheduled for February 14.
Alice Origin II is the follow up to this month's Force of Will: Alice Origin (see "'Force of Will: Alice Origin' Starter and Booster Deets").
Click the gallery below to see art from Alice Origin II!