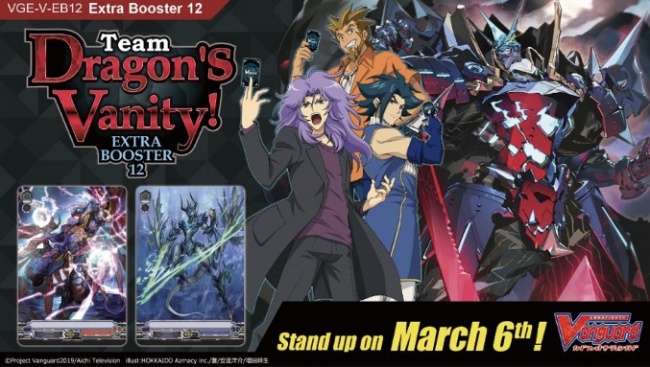 Bushiroad will release
Cardfight!! Vanguard Extra Booster 12- Team Dragon's Vanity
on March 6.
Team Dragon's Vanity
provides support for the clans used by the animated series' Team Dragon, featuring Shadow Paladin, Narukami, and Aqua Force. The new Extra Booster set will feature 15 reissue cards, including "Witch of Extirpation," "Bhera;" "Dragon Danver," "Eluisa," "Blue Ward Command," "Grim Revenger," "Darkside Trumpeter," "Howl Owl," "Dragon Dancer," "Catharian," and "Medical Officer of the Rainbow Elixir."
Team Dragon's Vanity
contains 66 cards (51 new and 15 reissue), including 3 VR; 6 RRR; 9 RR; 15 R; and 33 C. The set will also include various Parallel foils. Each pack contain 7 cards with 2 cards of R or above rarity, with 12 packs per display. Each display will include a guaranteed VR or SVR. Each carton will contain 24 displays and 2 bonus playmats.
Retailers can host
Cardfight!! Vanguard Extra Booster 12 - Team Dragon's Vanity Sneak Preview
events on the weekend of February 28 through March 1. Each
Sneak Preview
kit includes 39 boosters, 8 copies of a PR card, a special PR card, and 2 premium rubber playmats featuring the same design.
Team Dragon's Vanity
will follow the January release of
Cardfight!! Vanguard- Crystal Melody
(see "
The 'Crystal Melody' Echoes in 'Cardfight!! Vanguard'
").