Yoshiyuki Tomino, one of the creators of the Gundam anime, was a guest at AnimeNYC last weekend, and he appeared on several panels and also declared November 15 "Gundam Day" in New York.

He did not take part in the Denpa manga panel, but he was a virtual presence there: The independent publisher announced it will publish The Men Who Created "Gundam," by Hideki Owada, a lighthearted look at the origins of the famous franchise. The two-volume series focuses on Tomino and character designer Yoshikazu Yasuhiko. Denpa president Ed Chavez described it as "a super fun look at something that has changed Japan." Denpa will release the manga in late 2020 as a single omnibus volume with an MSRP of $21.95.
Denpa had three other titles to announce: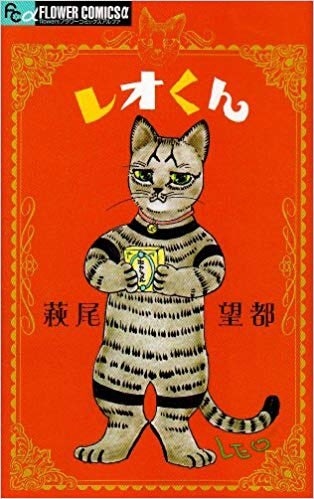 Li'l Leo
is by Moto Hagio, one of the most prominent female manga creators, whose work includes
The Poe Clan, Otherworld Barbara,
and
Heart of Thomas. Li'l Leo
is a departure from these serious titles: It's about a cat who grows up with a neighbor's child and does all the things the child does, including going to school and getting a job. "Hagio has always been someone who bends the restraints of what it is to be human, and in this case she ends up reframing the little furballs we hang out with," said Chavez. "It's super sweet, very smart, very thoughtful, and on top of that, it's a unique opportunity to see Hagio working on something a little comedic." Chavez expects the book to be out in late 2020, and it will have an MSRP of $15.95.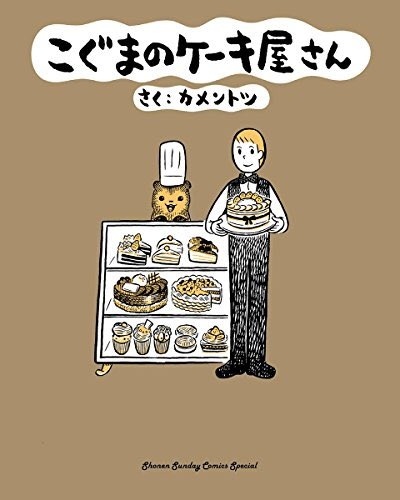 Baby Bear's Bakery,
by KamenTotsu, is another manga that features a cute animal crossing over into human territory. The title character, Baby Bear, is an excellent baker but, being just a bear, doesn't have a lot of business skills. This four-panel gag manga is published by Shogakukan, one of the largest publishers in Japan, and Chavez says they do a lot of crossover promotion with grocery stores and merchandise. "We are hoping to bring some of that to America," he said, adding that he expects this manga will appeal to general audiences, not just manga fans. The series is ongoing in Japan and there are four volumes so far; Denpa will publish the first in Fall 2020 in a three-color format with an MSRP of $15.95.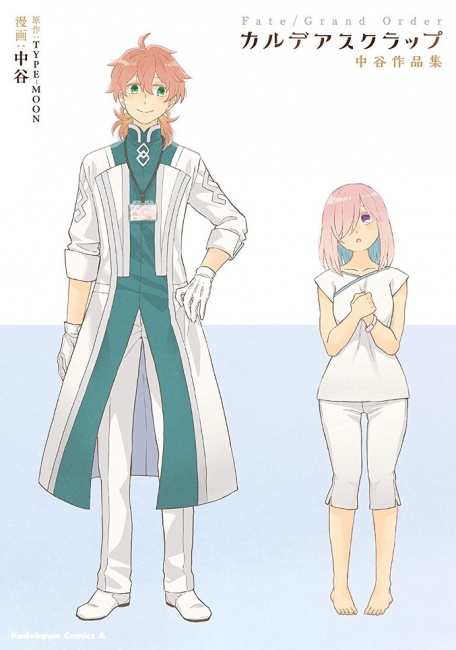 The Fate/Grand Order Chaldea Scrapbook
is a collection of stories set within the world of the RPG. "It's a slightly different look at the
Fate/Grand Order
characters," said Chavez. The one-shot manga is scheduled for Fall 2020 with an MSRP of $12.95.
The Denpa panel also featured a special guest: TAa, the artist for
Today's Menu with the Emiya Family,
a cooking manga that features characters from the Type-Moon game
Fate/stay night
, on which
Fate/Grand Order
is based. "We have a very good relationship now with [Japanese publisher] Kadokawa and Type-Moon," said Chavez, adding that he expects Denpa will publish more tie-in manga in the near future.
Yen Press had seven new manga titles to announce, all slated for 2020: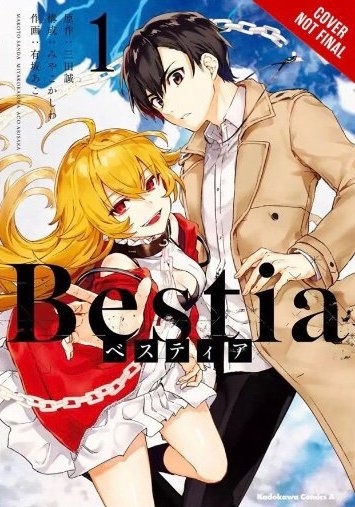 Bestia,
a fantasy-adventure story about a young man who, propelled by a faint memory, travels to London and finds not only adventure but a beautiful beast-girl.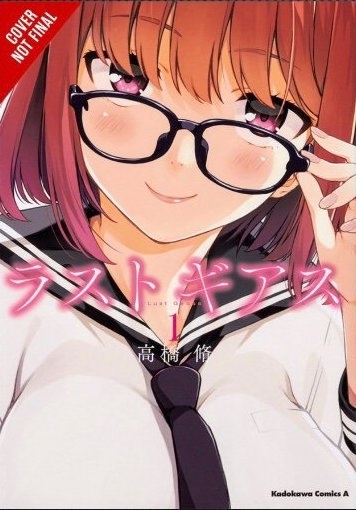 Lust Geass,
a harem series in which a mysterious book leads to amorous adventures.
Restaurant to Another World,
a fantasy story about a restaurant in Tokyo that has a wooden door from which otherworldly creatures such as elves, dwarves, and dragons emerge once a week to sample the delights of human food.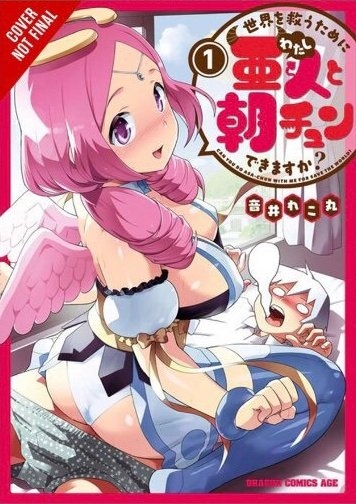 To Save the World, Can You Wake Up the Morning After with a Demi-Human?,
a monster-girl fantasy story about a man who, it is ordained, will father the savior of the world—and every female, human and demi-human, wants to be the mother.
Sadako at the End of the World
is a post-apocalyptic spinoff of the
Ring
novels and movies, in which two girls play the cursed video and bring the ghost Sadako into their world; the catch is that because humanity has been largely destroyed, there aren't many humans left for Sadako to kill, so the girls team up with her to go hunting.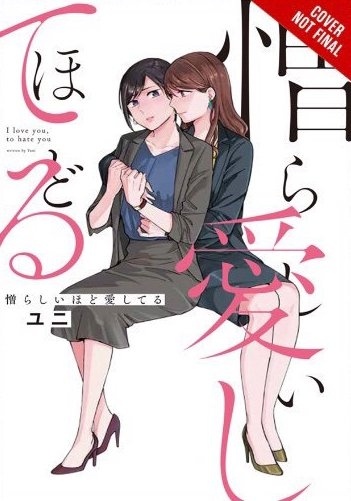 I Love You So Much, I Hate You
is a workplace yuri romance with an unusual format: Each chapter shows the same events twice, once from the point of view of one character, then again from the point of view of the other.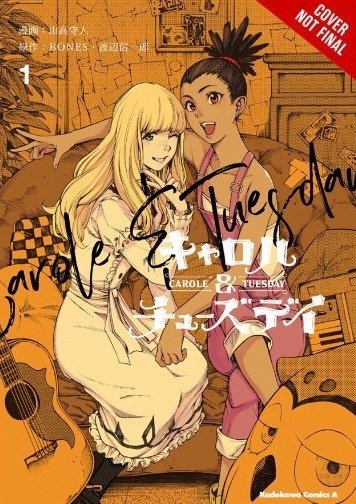 Carole & Tuesday,
which is adapted from the anime of the same name, is the story of the friendship between two women who live on Mars and are brought together by their love of music.
Click Gallery below for full-size cover images!