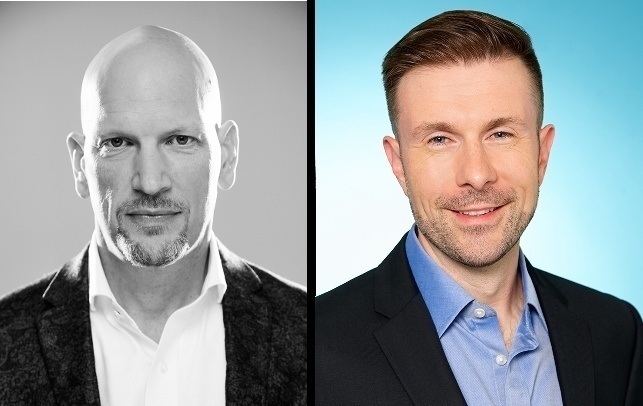 We caught up with BOOM! Studios CEO Ross Richie and President of Marketing and Publishing Filip Sablik to talk about BOOM!'s 2019 and plans for 2020. In Part 2 of this two-part interview, we talk about returnability, expectations for market conditions in 2020, BOOM!'s publishing plans, and comics for kids. In Part 1, we talked about the state of the comics and graphic novel markets, BOOM!'s strategy of publishing less to sell more, and a program that releases graphic novels early to comic stores and increases sales in both channels.
BOOM! has used returnability in a bunch of different circumstances. You're doing returns on a couple of graphic novels a month. What's your current evaluation of the importance of our usefulness of returnability to cut risk for comic stores?
Richie: It's gigantic. I think it's super important. For retailers, with the increase in the amount of product, it's more and more difficult to get all of your orders right. By shouldering part of the risk for retailers, we have been able to create an environment where they can find their ceilings on our titles.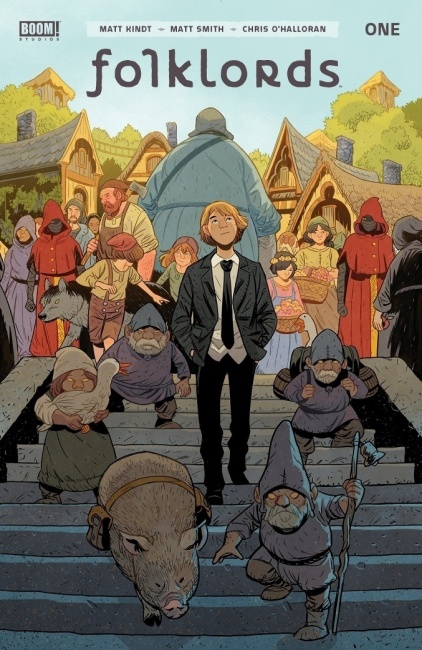 This year, in particular,
Once and Future
#1 went through seven printings.
Something is Killing the Children
#1 did five printings. Retailers were running to try to find their ceiling on both of those titles. Then, we've seen subsequent launches,
Folklords
has gone through three printings. It will probably go to a fourth.
This has created an environment where retailers can capture their BOOM! audience, and that's partially responsible for our 71 percent upswing in first issue original order sales.
You mentioned three titles that went through multiple printings. Were those titles returnable?
Richie:
Yes.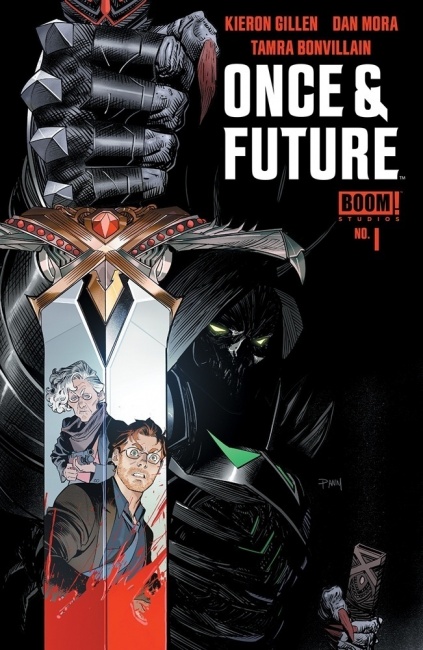 So the lesson of multiple printings is that even with the returnability, there still wasn't enough risk taking out there in terms of that those titles.
Sablik: I would add that one of the things that was happening this year was that we were resetting people's expectations of what a BOOM! title could do. When you look at
Once and Future
and you look at
Something is Killing the Children
, relative to past performances, we had a lot of retailers take a solid position on those titles and take advantage of the returnability.
At the same time, one of the things that was really remarkable about this year, is that we dramatically increased our market penetration in the direct market. We had a roughly 50 percent increase in the number of stores that were picking up our originals by the end of the year versus what was happening historically, and even at the beginning of the year.
Part of the story that's being told with those multiple printings is there are new accounts ordering BOOM! titles for the first time. They may not be part of the guarantee program yet, which is our program that offers returnability. And they may just not have any sales track to be able to anticipate how well we'll do in their store.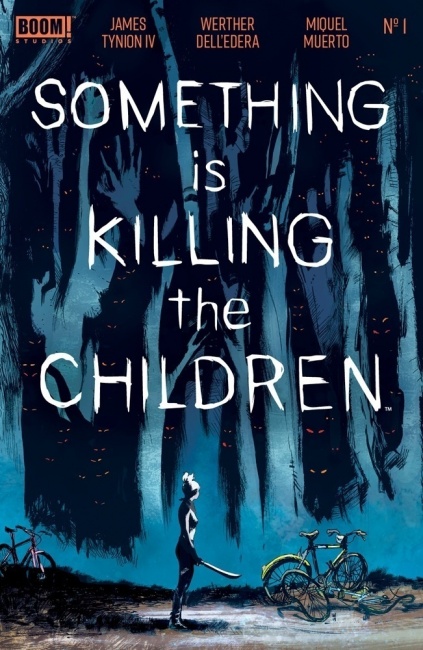 Why do you think you were getting more direct market retailers to buy BOOM!? Were they following talent? What was attracting them?
Sablik: I hate to be this simplistic, but when you have buzz books, people pay attention.
Once and Future
and
Something is Killing the Children
were both gigantic hits.
Richie: It's worth mentioning, also, we started the year with
Faithless
, which was by Brian Azzarello and Maria Llovet. That was a huge hit. That book was ordered in extremely high. That was the best-selling original BOOM! launch until
Once and Future
. The projects were very exciting. The retailers were able to understand the size of the audience in their store.
Let's look ahead now. What do you expect in terms of market conditions for 2020? What have you got coming up from BOOM! that retailers should be paying attention to?
Richie: We launched, starting with
Faithless
and then
Something is Killing the Children, Once and Future, Folklords
, and
Red Mother
, an incredibly successful slate of originals. We have another incredibly successful slate of originals that are set to go in 2020.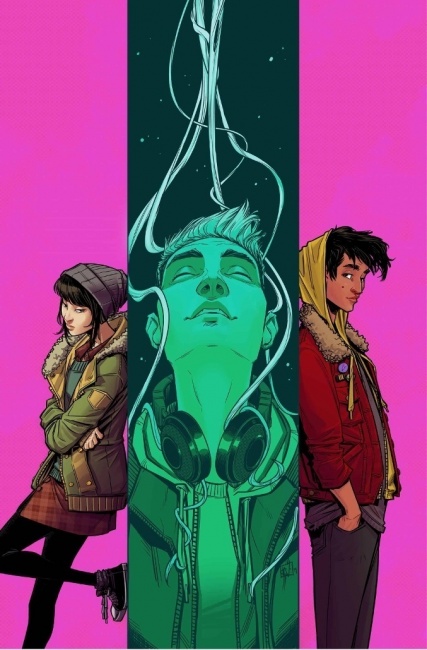 The first issue that we're launching is
Alienated
in February from Si Spurrier and Chris Wildgoose. Then, we're following that up with
The King of Nowhere
. That's from W. Maxwell Prince, who is the writer and creator of
Ice Cream Man
, which was a really huge book for Image.
Those are just the first two salvos for us in a very compelling slate of really exciting new originals. We have big expectations for what those are going to do this year.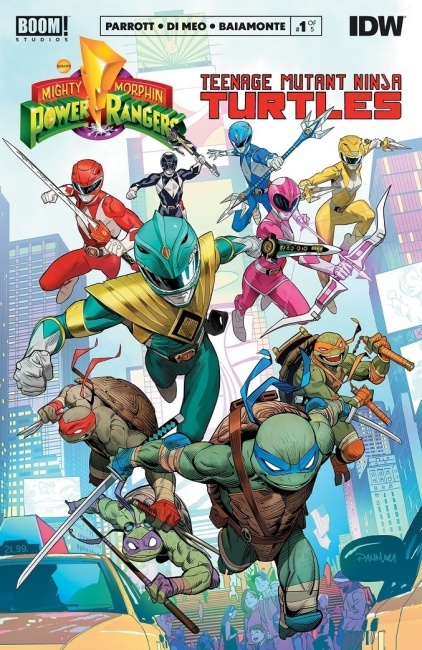 Sablik: The
Power Rangers/Turtles
crossover launch this month was gigantic. First issue's doing incredibly well. That is going to lead into
Power Rangers
#50 in late spring.
Issue #50 is always a big accomplishment and something to celebrate, certainly in the current market even more so than maybe 20 years ago. It's one of the things that's been tremendous for us over the last couple years is with a series like
Power Rangers
being able to reenergize it every year with new storylines and new things that get the fans excited and back in the stores. Issue #50 is going to be not only an anniversary edition, but something that kicks off a new storyline that will run through 2020 and build toward some pretty exciting things in the back half of the year.
We've got those things coming up.
The other question you had was about the market in general. I think many of the conditions we saw this year, I expect are still going to be a growing concern next year. I think the market at large has not figured out how to modulate its output. I don't expect that that will change. I don't think we're going to be contributing to that problem.
What are you planning in terms of number of releases for next year versus '19?
Sablik: We're expecting to be flat in terms of number of releases next year. There won't be any increase.
I do expect that the book market is going to continue to grow and would not be surprised if next year, on a total volume basis and dollar basis it exceeds the direct market.
We talked about that at the Insider Talks at New York Comicon. That was one of the two big takeaways from 2019; we think that's actually happening this year. The other big takeaway was that there are more dollars in kids' comics than there are in superheroes this year, which is kind of mind‑boggling.
Richie: Yes. At the same time, though, it's like the first comic book I read was when I was six, kids love comics. That's why I started KaBOOM!; it was well ahead of this trend.
You've got to make comics for kids. You've got to make comics for kids that they would read. That's the second corollary. You can't make a comic book that is not as exciting and is easier to read and expect kids to read that. You've got to make a comic book that would be engaging for kids.
Dav's certainly done that with
Dogman
. It's energized everybody and shown them that little kids will read comics.
I knew that. That's the world we grew up in.
Right, for sure, it just got forgotten for a few decades.
Richie: We all focused on the idea that grown‑ups could read comics. That was a really big rock to push up a hill. It took decades to convince people that that was a thing. I remember how hard it was to convince people that that was true. It's exciting to see kids reading comics. Here's the thing. They're going to grow up and be adult graphic novel readers. It's really great for the business.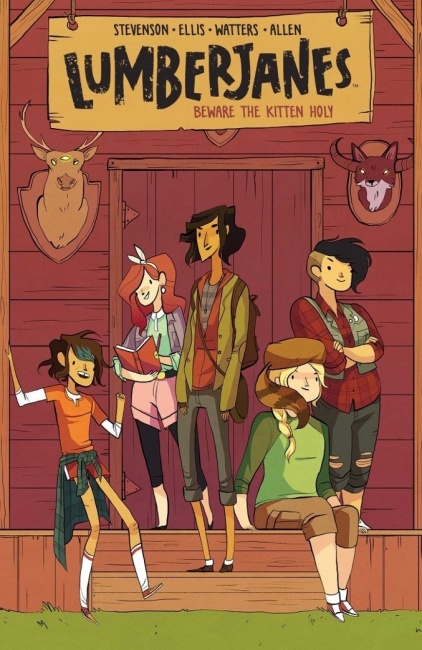 Sablik: I'll throw out a BOOM! statistic that is reflective of this, which is our biggest reprint this year was a kid comic. It was
Lumberjanes Volume One
. I think we are on the 12th printing and reprinted 40,000 copies. That's an exciting place to be with a franchise that's been around for this many years, and has continued to grow, and continued to build its audience.
Richie: What do you think the overall statistic is for the franchise?
Sablik: I know we're over 1.5 million copies on
Lumberjanes
[all nine volumes combined]. I haven't checked in a couple months. That number may be higher. That is something that is both a direct market organically grown success story and a book market, library market, organically grown success.
Richie: And indie bookstores.
Sablik: There was no gigantic marketing budget behind that. The creators, when we launched that franchise, were largely unknown. Noelle Stevenson had done
Nimona
as a web comic and had an audience from Tumblr, but beyond that, these were all brand-new creators doing their first comic project.
Anything else you want to get out there to our readers as we enter the new year?
Richie: The big two that I would say for 2020 is we had a giant slate of originals this last year and that we have another giant slate of originals for next year. On top of that, the publishing that we have for
Power Rangers
is going to be a complete hurricane. It's going to be very exciting for that audience, and retailers are going to do really well with it.
We had a super successful book market this year. We had a super successful book market the year before. It will grow again.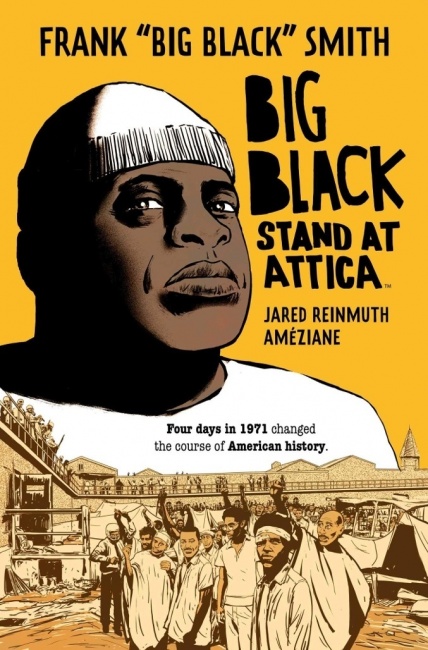 Sablik: When we talk about projects like
Big Black: Stand at Attica
coming out in February, that's a book that we're really excited about and getting a great response to. We just announced
Seen,
which is a brand-new series from BOOM! Box that's going to focus on the stories of important figures in history from marginalized groups that have historically been overlooked by mainstream history.
What's exciting about those is they're going to be pocket-sized and value-priced so that young kids who are looking for inspiration from people in history that reflect their own reality and their own lives are something they can look up to.
We've got Sabaa Tashir writing an extension of her
Ember in the Ashes
novel series. That's something that's really exciting for us, as well.
One of the strengths of the company and one of the challenges of doing one of these year‑end or beginning of the year interviews is we do so many different things and speak to so many different audiences that it's almost hard to capture it all in one conversation.
Click here
to go back to Part 1.