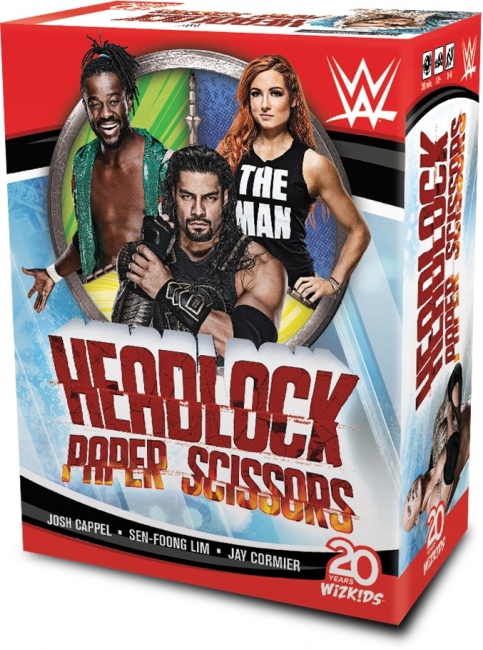 WizKids unveiled
WWE: Headlock, Paper, Scissors
, a wrestling board game from the designers of
Dungeons and Dragons: Rock, Paper, Wizard
(see "
Combine Magic Spells and Classic Gestures
"), for release into trade in May 2020.
WWE: Headlock, Paper, Scissors is an all-new game where players take on the role of one of 12 playable WWE Superstars, which include Roman Reigns, Kofi Kingston, and Becky Lynch, to battle for the coveted Money In The Bank briefcase. Players use striking, showboating, and hand gestures to gain the most popularity, and eventually ascend a treacherous 3D ladder in an attempt to snare the briefcase and win the match. Each Superstar has a signature technique, and the game features Comeback cards and an Underdog token which make it difficult for any player to get too far ahead.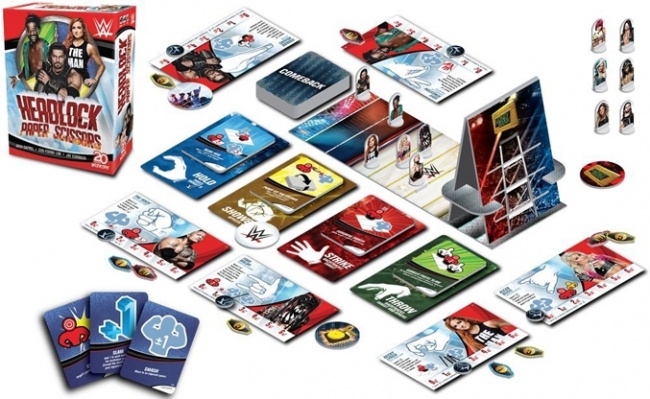 The game box contains 12 Superstar playmats, 12 Superstar standees, 4 Technique Category playmats, 42 Technique & Comeback cards, a Ladder with 2 struts, a Ring board, 6 plastic stands, 66 tokens, and a rulebook.
WWE: Headlock, Paper, Scissors
is for three to six players, ages 12 and up, plays in 30 minutes, and will retail for $19.99.
Click on Gallery below for full-size images!