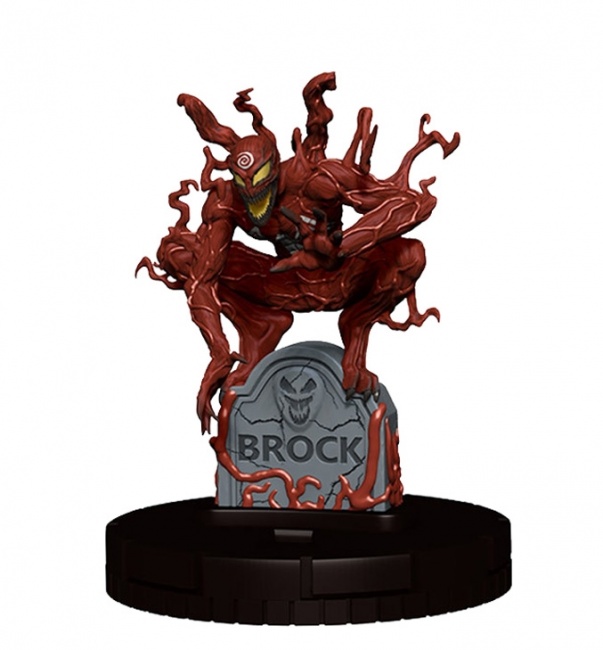 WizKids will launch the
Marvel HeroClix: Spider-Man and Venom Absolute Carnage
set in August, in both boosters and
Fast Forces
sets, along with a
Dice and Token Pack
and
Release Day OP Kit
.
Spider-Man and Venom join forces in the Absolute Carnage set, which features popular characters from the Spider-Man comics, including Spider-Man, Green Goblin, and Mysterio, as well as "Venomized" versions of iconic Marvel characters like Captain Marvel and Doctor Strange. Characters that are new to the HeroClix game will also appear, including Knull, Scream, White Rabbit, Spider-Man 1776, Spider-Pharaoh, and Leonardo da Venom.
The new figures will be sold in booster packs, with each pack holding five pre-painted figures. Some boosters will also feature bonus equipment objects. The complete set will have 17 common, 17 uncommon, 16 rare, 12 super rare, and 8 chase figures, plus 4 Prime characters and 7 equipment objects. Boosters will be available in 10-piece Booster Bricks, with an MSRP of $129.90 per Booster Brick.
In addition to the Booster Bricks, the Spider-Man and Venom Absolute Carnage Fast Forces set will allow players to quickly assemble a team for the new set, with Spider-Man, Venom, Black Cat, Carnage, Mysterio, and Ghost-Spider. MSRP is $16.99.
Rounding out the releases is the Spider-Man and Venom Absolute Carnage Dice and Token Pack, which includes 2 custom dice and 6 action tokens for MSRP $9.99.
Participating retailers may order up to three copies of the Spider-Man and Venom Absolute Carnage Release Day OP Kit, which comes with instructions on how to host a release day event as well as three limited edition Spider-Man HeroClix figures and character cards to use as prizes and five double-sided game maps.
In July, WizKids will release a HeroClix set featuring the Fantastic Four (see "WizKids Reveals More 'Fantastic Four' for 'Marvel HeroClix'").
Click on Gallery below for full-size images!