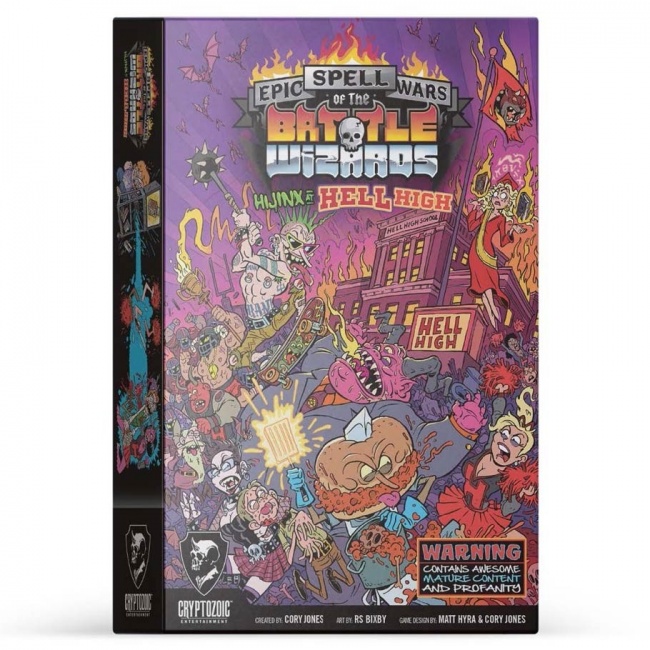 Cryptozoic Entertainment revealed
Epic Spell Wars of the Battle Wizards: Hjinx at Hell High
, a new spellcrafting card game, for release in 2020.
The Battle Wizards are headed back to school to channel some adolescent rage into this spellcrafting card game. Hjinx at Hell High offers players all the fly-by-night spellcrafting and awkward experiences of high school as they play cards to move themselves up and down the social ladder from the class of Ultimate Loser to Class President.
The game box comes with 30 Source cards, 30 Quality cards, 30 Delivery cards, 8 Wild Magic cards, 9 Oversized Wizard cards, 25 Treasure cards, 25 Dead Wizard cards, 15 Kill tokens, 7 Last Wizard Standing tokens, 6 Skull Life counters, 5 six-sided dice, a Social Status Board, 9 Wizard standees with bases, a Power Bonus token, a Hell High standee, and a Promo Card for Epic Spell Wars of the Battle Wizards: ANNIHILAGEDDON. This game is for two to six players, and will retail for $30.00.
Ultra PRO has also announced Epic Spell Wars accessories for March (see "Ultra PRO Will Release 'Epic Spell Wars' TCG Accessories").