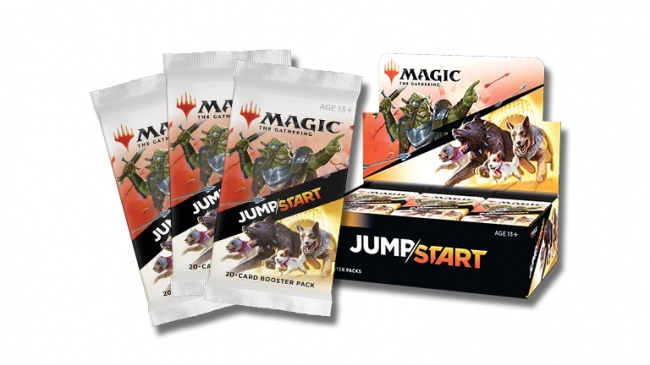 Wizards of the Coast just unveiled
Jumpstart
Booster Packs and Booster Boxes for
Magic: The Gathering
trading card game which will release on July 3, 2020.
Jumpstart is a new way to play Magic: The Gathering that fuses the best parts of limited and constructed into a quick-to-play experience. Each pack contains 20 cards, all of which fit a specific deck construction theme, and each player can take two of these packs, shuffle them together, and play a game of Magic right out of the pack. There are 121 possible 20-card lists inside any given pack, and basic lands are included, some with new art.
This set introduces 37 new cards to Magic: The Gathering, has almost 500 reprints, and all of the cards in this set are legal in Legacy, Vintage, and Commander formats. One out of every three boosters has an extra rare card, and some packs have unique "Mythic Rare" themes. Boosters come with 20 cards and a Pack Summary card, and Booster Boxes come with 20 Jumpstart packs.
Wizards of the Coast recently unveiled Ikoria: Lair of Behemoths which is set to release on April 24, 2020 (see "Details Revealed For 'Magic: The Gathering' 'Ikoria: Lair of Behemoths' Product Line").