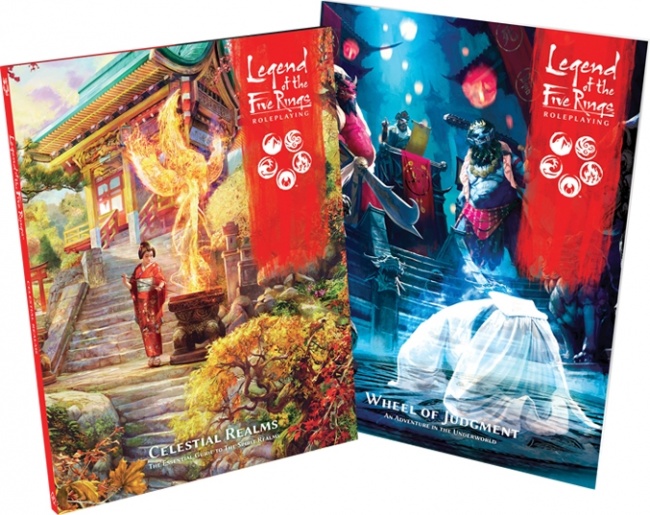 Fantasy Flight Games unveiled
Celestial Realms
and
Wheel of Judgment
, a new sourcebook and adventure for
Legend of the Five Rings Roleplaying Game
, for release in Q2.
Celestial Realms is a three chapter sourcebook that fleshes out the cosmology of the Spirit Realms of the Emerald Empire. It also goes into detail about the Phoenix Clan and how they are the caretakers of the soul of Rokugan. This book includes new options for players, adventure seeds, information about the ancestral swords of the Great Clans, and an introduction to the Centipede Clan.
Celestial Realms is a 144-page full-color sourcebook, and it will retail for $39.99.
Alongside the new sourcebook, Fantasy Flight Games will also release Wheel of Judgment, a new adventure for L5R RPG. This adventure is specifically designed for deceased player characters. The players and their fellow samurai have crossed over into Meido, the Realm of Waiting, and are tasked with hunting down the corrupting influence of Jigoku.
Wheel of Judgment will retail for $19.95.
Fantasy Flight Games recently revealed Path of Waves, another sourcebook for the Legend of the Five Rings Roleplaying Game (see "Play Masterless Characters With 'Legend of The Five Rings RPG: Path of Waves'").