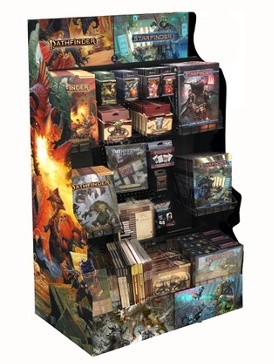 Paizo Publishing will begin offering its products directly to domestic retailers, in addition to through distributors, at GAMA Expo with a rack program that will only be available to stores directly from the publisher. The rack program will offer a metal rack free with an order of an assortment of $3000+ of Paizo products from its
Pathfinder 2E, Starfinder, Pathfinder Adventure Card Game
, and accessories lines.
Wholesale pricing has not yet been set. Stores will have to pay with a credit card to order directly from Paizo.
The rack program would not work economically through distribution, Paizo COO Jeff Alvarez told ICv2. "When we started the process for creating the retail display rack, we actually wanted to put it through distribution but we found that we couldn't make it make economical sense for us or the retailers when you start talking about a $300+ rack and shipping from China to here and shipping from here to a retailer and then having to offer the distribution discount on top of all of that," he said. "So the only way we could make it make sense was to have it be a direct product."
Paizo will begin offering its full line of new products and backlist directly to retailers shortly after GAMA Expo. A primary reason was to make Paizo's full new product range and backlist available to retailers regardless of which of the company's distributors, which number "in the teens" in the U.S., a retailer uses to source product, according to Paizo.
"We want to supplement what's available at distribution," Paizo sales associate Cosmo Eisele said. "We have a huge backstock of first edition [
Pathfinder
] products, we've got pocket editions, we've got a lot of products that are available at this distributor but not available at that one, and we basically want to make sure that we have our entire line available to everyone. This is going to be a solution for retailers who want to carry something that they can't find at their distributor."
COO Alvarez concurred, adding, "Our special edition hardcovers were being offered through distribution on an initial occurrence but after release have been checked back to special order, and the same has been going on for some of the pocket editions, so those were other signs that pointed to needing a solution that was a direct-to retail."
The company also seeks to improve information flow to retailers. "There's also questions sometimes about whether a product is still available, and that of course varies from distributor to distributor, but retailers will always be able to check in with Paizo and find out whether something is still available," Alvarez said.
Sign-ups for the program will be handled through the company's retailer locator site, which currently offers retailers PDFs of organized play scenarios for all three games and a retailer newsletter in addition to placement on the company's retailer locator website.