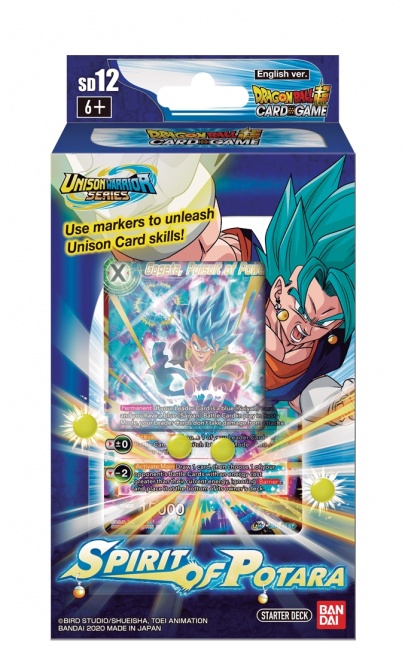 Bandai has announced changes to the
Dragon Ball Super: Card Game Unison Warrior Series
release schedule as well as released the images of the promo cards for the prerelease kits.
The first change in release dates comes with the Unison Warrior series starter decks which were originally scheduled to have a street date of June 19. This release date has been moved up to June 5 for the Clan Collision, Sayan Wonder, and Spirit of Potara starters (see "Bandai Will Release New Series for 'Dragon Ball Super: Card Game'").
The Dragon Ball Super: Card Game Rise of the Unison Warrior booster boxes and premium packs also have a new release date, changed from the June 19 scheduled release. Boosters and premium packs have been pushed back to July 17 with a prerelease happening on July 10. Prereleases will have no accompanying in-store event, and they instead, will be allowed to sell products on July 10. Bandai has also recommended that stores give out prerelease kit promo prizes with the purchase of six boosters.
Bandai also announced that it will provide launch kits for Expansion Set 11 & 12 for Dragon Ball Super: Card Game (see " Bandai Will Provide Launch Kits for New 'Dragon Ball Super: Card Game' Expansion").
Click on Gallery below for full-size images!