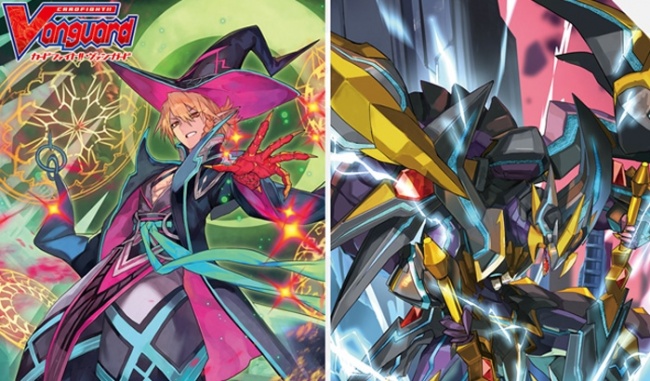 Bushiroad revealed
Phantom Dragon Aeon Sneak Preview Kit
and
Phantom Dragon Aeon Booster Pack 10
, for
Cardfight!! Vanguard
, to release into trade.
Coming October 23, Bushiroad will release a preview kit to kick off the Phantom Dragon Aeon set. Phantom Dragon Aeon Sneak Preview Kit will contain 2 Premium Rubber Playmats (1 design), 8+1 Exclusive PR Cards, and 39 Booster Packs. The kit contains enough pack to so that each player can receive four packs in an eight-person event gets with the remaining seven packs to serve as a prize.
Then, on October 30, Phantom Dragon Aeon Booster Pack 10 releases featuring the Shadow Palaldin, Tachikaze, Spike Brothers, and Megacolony clans with a special rarity treatment called ASR or "Another Secret Rare". Each pack contains seven random cards, and a display comes with 16 packs. There are 91 types of cards, eight of which are reissues, and the set breaks down to have VR: 5, RRR: 11, RR: 13, R: 18, C:44, and has various Parallels (SP: 26 plus ASR). Seven types of critical triggers and one type of front trigger are planned for reissue.
The Master Lord Blaster premium deck is also scheduled for October (see "'Majesty Lord Blaster' Comes to 'Cardfight!! Vanguard'").