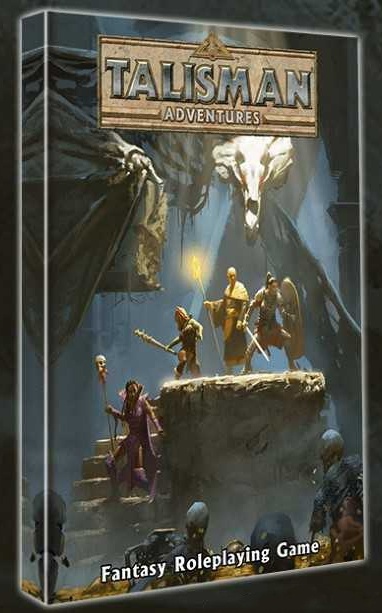 Pegasus Spiele unveiled the
Talisman Adventures Fantasy Roleplaying Game
, a tabletop roleplaying game book based on the
Talisman: The Magical Quest Game
, which will be available to U.S. retail for Q4.
In the Talisman Adventures Fantasy Roleplaying Game, a group of players can build fantasy characters, choose a gamemaster, and embark on exploring the Realm of Talisman. This book uses the 3D Adventures rules system, which is partitioned into two sections: a Player's Guide and a Game Master's Guide.
The Player's Guide has all of the basic rules needed to create a character and get them ready to set out into the fantasy world. It also contains standard equipment lists, spells, and history of Realm. The Game Master's Guide section of the book contains storytelling advice as well as details for non-player characters. Additionally, this section features enemies for encounters, magic items, and information on character advancement. The core book also contains helpful appendices that contain pre-generated characters for quick-play, tons of charts and tables, and starting adventure entitled Death's Messenger.
This game is for two to seven players, ages 12 and up, and plays in two to four hours. Retail pricing will be available closer to this game's release.
Pegasus Spiele will also release Celtic, a family-friendly board game about travelling and trading in Celtic Germany, into the U.S. market (see " 'Celtic' Joins Pegasus Spiele's Stable").
Click on Gallery below for full-size image!