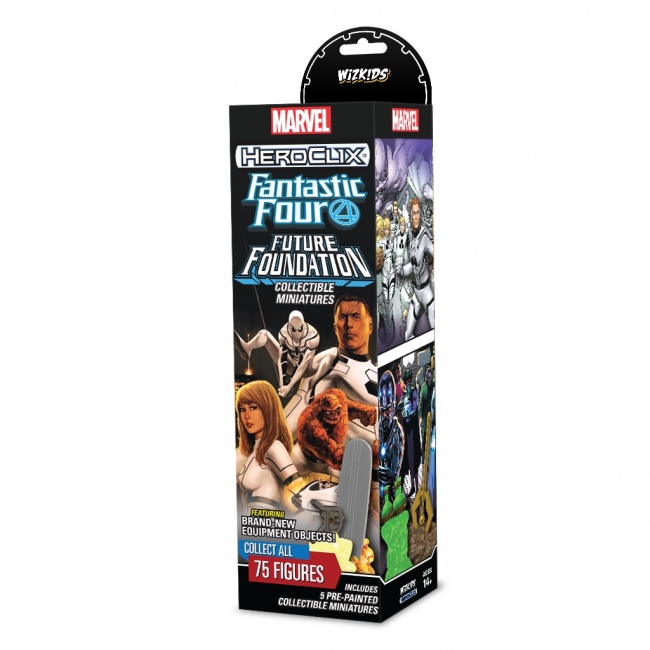 WizKids revealed
Marvel HeroClix: Fantastic Four Future Foundation
set for release in February 2021.
In the comics, Reed Richards created the Future Foundation to help mentor a generation of geniuses so they could protect the Earth from the likes of Doctor Doom and the Heralds of Galactus. Now, the Future Foundation comes to Marvel Heroclix featuring first time clixed characters like H.E.R.B.I.E. and Ms. Thing. Each booster pack comes with 5 pre-painted figures, and select boosters come with bonus equipment-objects. The Booster Brick will retail for $149.90, and comes in master cartons of 2 units.
Alongside the Booster Brick, WizKids will introduce new Fast Forces. The introductory set comes with Future Foundation's most well-known characters Mr. Fantastic, the Invisible Woman, The Thing, the Human Torch, Spider-Man, and Dr. Doom. It will retail for $19.99.
WizKids will also offer a Play at Home Kit for release day. This kit comes with a Limited Edition Invisible Woman figure with its character card, and double-sided map to play on. Each kit has a MSRP of $9.99.
WizKids recently release Marvel HeroClix: Galactus - Devourer of Worlds Premium Colossal Figure in August (see "Galactus Returns to Devour 'Marvel HeroClix'! ").
Click on Gallery below for full-size images!