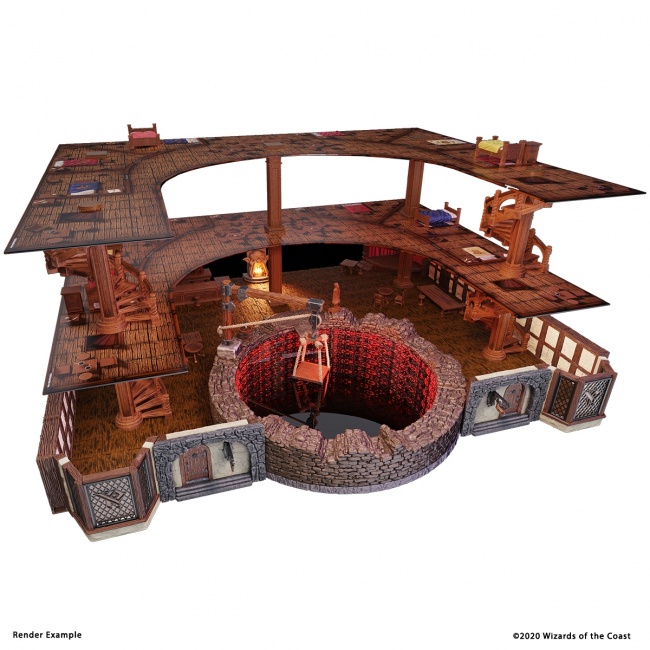 WizKids revealed
The Yawning Portal Inn
, a premium miniatures set for
D&D Icons of the Realms
, which will release in April 2021.
The Yawning Portal Inn is a colossal premium miniatures set that features the famous tavern from Waterdeep which was constructed by the Lord of Waterdeep, Durnan, on top of the ruins of Halaster Blackcloak's tower. It has all of the described landmarks, Dungeons & Dragons books, including the dry well that leads into Undermountain. This set also has an LED lit fireplace and well along with removable walls on the first floor. The inn is built on a 28 mm scale, and works with D&D Icons of the Realms miniatures.
The set comes pre-painted and the box includes the following miniatures: Durnan, 2 Long Bar Sections, a L-Piece Bar Section, a Short Bar Section, a Left Bar Back Wall Piece, a Right Bar Back Wall Piece, a Middle Bar Back Wall Piece, a Grimvault, a Statue of Tymora, a Fireplace, a Logs, a Portal, a Portal Winch, a Portal Platform, a Portal Bucket, a Portal Cover, a Portal Stone Filler A, a Portal Stone Filler B, 2 Round Tables, 2 Square Tables, 2 Long Tables, 4 Chairs, 6 Stools, a Performance Stage, 2 Single Beds, 2 Double Beds, 2 Nightstands, 5 Three Bottle Clusters, 5 Five Bottle Clusters, 5 Eight Bottle Clusters, 5 Mugs, 5 Mugs with Foam, 2 Barrels on Stands, 2 Barrel Stacks, 2 Six-Foot Kegs, 2 Small Kegs, 2 Barrels, an Inn Sign, a Trap Door, 4 Stairwells, 2 Round Stairwell Caps, 6 Pillars, 6 Pillar Top Caps, 5 Pillar Warlock Blade Plugs, a Round Floor Tile, 2 Bay Window Tiles, 2 Bay Windows, an Inn Front Right, an Inn Front Left, an Inn Right Door, an Inn Left Door, 16 4" x 4" Floor Tiles, 4 2" x 8" Floor Tiles, 72 WarLock Ez Clips, 32 Edge Caps, a Double Door, a Single Door, 10 2" Full Height Plaster Walls, 4 2" Full Height Cracked Plaster Walls, 2 Cardboard Tiles, and assembly instructions.
The Yawning Portal Inn premium set will retail at an epic MSRP of $349.99.
Click on Gallery below for full-size images!