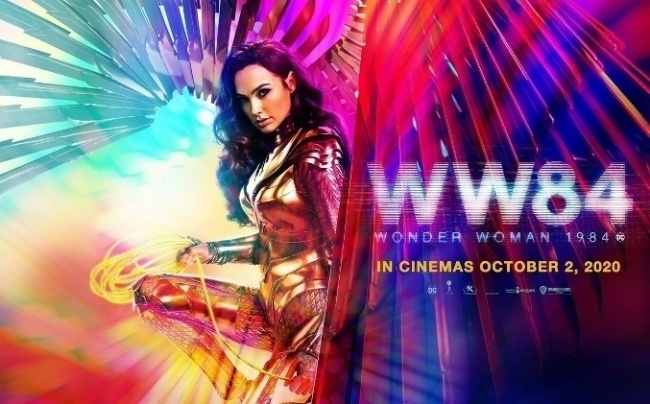 Warner Bros. reportedly paid Gal Gadot and Patty Jenkins over $10 million each to smooth over issues regarding their decision to stream
Wonder Woman 1984
the same day it will arrive in theaters according to
The New York Times
.
Recently, Warner Bros. decided to change the distribution model for their 2021 slate, which will have all of the 17 movies scheduled for release streaming on HBO Max the same day they come out in theaters (see "Warner Bros. To Release 2021 Slate on HBO Max and Theaters at Same Time"). The new model presented several problems, the most glaring of which was how the actors, actresses, and their agents would get compensated for box office percentage deals, promotional appearances, or any the benefits a star would normally receive under the traditional model. To allow WW84's Christmas Day release go off successfully under the new model, Warner Bros. decided to cut a deal with lead actress Gal Gadot and director Patty Jenkins by which they each receive more than $10 million compensation.
Once word of the payout got out, agents representing other Warners' stars like Margot Robbie, Will Smith, and Hugh Jackman besieged them with queries asking why their clients didn't get the same treatment. This was followed by an open denunciation of their 2021 plan by heavyweight filmmaker Christopher Nolan in a statement made to THR:
"Warner Bros. had an incredible machine for getting a filmmaker's work out everywhere, both in theaters and in the home, and they are dismantling it as we speak. They don't even understand what they're losing. Their decision makes no economic sense, and even the most casual Wall Street investor can see the difference between disruption and dysfunction."
As the Hollywood talent's anger toward Warner Bros. continued to boil over, the company still found time to put out a new WW84 trailer which advertises that the movie will be on HBOMax with no extra cost to its subscriber base on December 25 (see "Best in Shows--Q4 2020").
Click below to see the trailer!