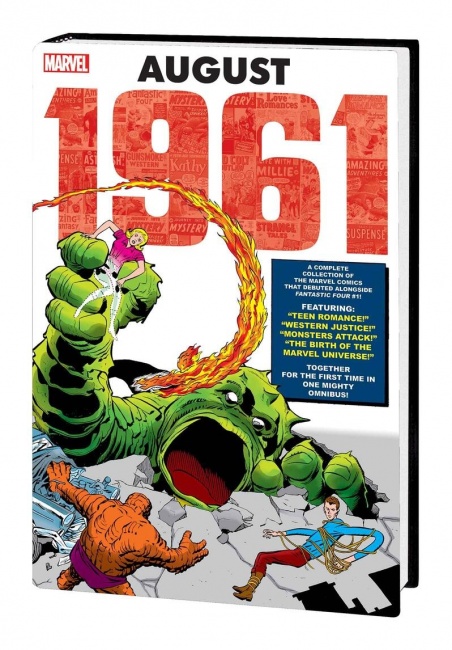 Marvel Comics will release
Marvel: August 1961 Omnibus HC
into retail stores in August 2021.
The month of August 1961 is a time frame steeped in comic book publishing lore. According to Marvel legend, the publication of Fantastic Four #1, which arrived in August 1961, was the result of Stan Lee's wife, Joan, convincing him to create one more comic before he considered leaving the business. This led to the birth of the Silver Age of the MCU, and the rest is history.
Marvel: August 1961 Omnibus HC is a first-of-its-kind omnibus that collects Journey Into Mystery (1952) #73-74, Kathy #13; Life with Millie #13, Patsy Walker #97, Amazing Adventures (1961) #6, Fantastic Four (1961) #1, Kid Colt, Outlaw #101, Linda Carter, Student Nurse #2, Millie the Model #105, Strange Tales (1951) #90, Tales of Suspense (1959) #23, Tales to Astonish (1959) #25, Gunsmoke Western #67, Love Romances #96, Teen-Age Romance #84, Amazing Adult Fantasy #7, Patsy and Hedy #79, and Rawhide Kid (1960) #25. These stories were created by greats like Stan Lee, Jack Kirby, Steve Ditko, Don Heck, Stan Goldberg, Al Hartley, Paul Reinman, Jack Keller, Dick Ayers, Bob Forgione, Vince Colletta, and more. This omnibus will feature a DM-cover by Jack Kirby and a main cover by Javier Rodriquez.
Marvel Comics announced The Defenders Vol.1 Omnibus for release on April 20, 2021 (see "Roy Thomas' Classic 'The Defenders' Omnibized in a 680-page Volume").
Click on Gallery below for full-size images!