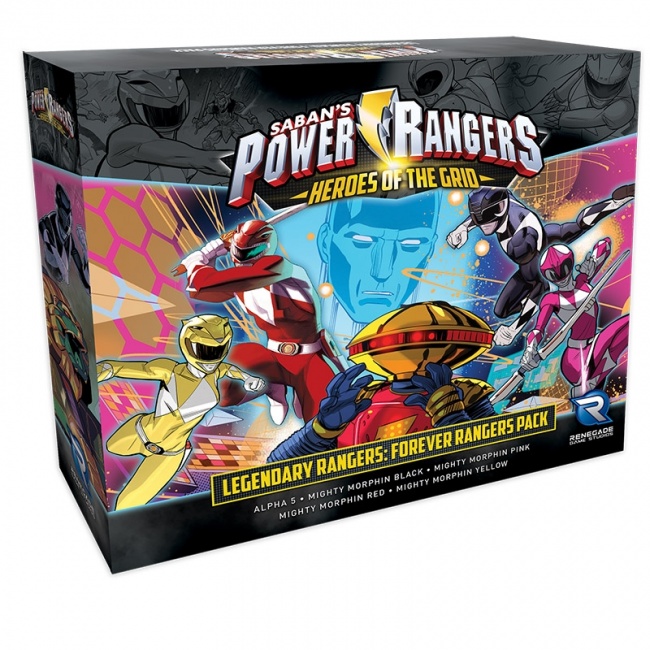 Renegade Game Studios revealed three
Power Rangers: Heroes of the Grid
expansions and a
Painted Megazord Deluxe Figure
which will release in April.
The new Legendary Rangers Forever Pack expansion upgrades Dinozords to Thunderzords, and adds new combat decks. This set also includes new miniature sculpts of existing characters to help the team battle monsters in Angel Grove. The game box comes with 5 Ranger figures, 5 Character cards, 50 Combat cards, 6 Zord cards, 2 Megazord cards, and a rulesheet, and will retail for $40.00.
They will also release two new monster expansions along with the new heroes set. Villain Pack #3: Legacy of Evil will add two new bosses, Thrax and Divatox. It also comes with three new monsters Pirantishead, Terror Toad, and King Sphinx. The game box includes 3 Monster figures, 3 Monster Deployment cards, 24 Monster Enemy cards, 2 Boss figures, 2 Boss Deployment cards, 16 Boss Enemy cards, a rulesheet, and a replacement card pack, and will retail for $40.00.
The other monster expansion, Squatt & Baboo, adds these two new monsters to the mix. The game box comes with 2 Monster figures, 16 Monster Enemy cards, 3 Monster Deployment cards, and a rulesheet. This pack will carry an MSRP of $20.00.
There is also a Painted Megazord Deluxe Figure on the way. It comes with just the single figure to replace the Megazord token, and does not add any additional rules to the game. The deluxe figure will retail for $45.00.
Renegade Game Studios last released Power Rangers: Villain Pack #2 - The Machine Empire for Heroes of the Grid (see "The Machine Empire Threatens the 'Power Rangers'").
Click on Gallery below for full-size images!