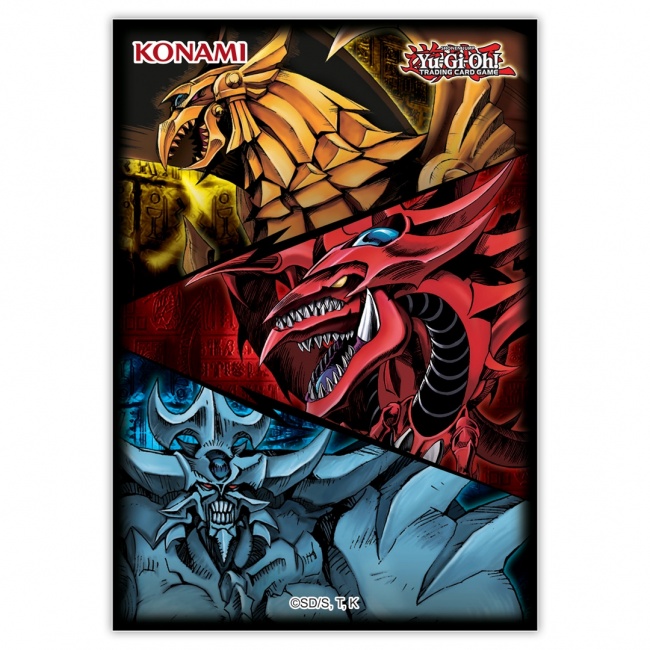 Konami Digital Entertainment unveiled
Slifer, Obelisk, & Ra Accessories
, for
Yu-Gi-Oh! TCG
, to release on June 11.
The legendary Egyptian Gods, Slifer the Sky Dragon, Obelisk the Tormentor, and The Winged Dragon of Ra, return with new artwork united onto a single line of accessories which include sleeves, a card case, a 9-pocket portfolio, and a playmat. Packs of Slifer, Obelisk, & Ra Card Sleeves come with 50 tournament regulation sleeves, and will retail a $3.99. The Slifer, Obelisk, & Ra Card Case can fit a total of 70 sleeved cards, includes a divider, and will retail for $4.99.
Slifer, Obelisk, & Ra 9-Pocket Duelist Portfolio comes with ten 9-pockets pages which allows the display up to 180 cards. It features a side-loading design, and will retail for $9.99. This accessory line also includes a Slifer, Obelisk, & Ra Game Mat that is the same size as the prize mats, and retails for $14.99.
For more information on Yu-Gi-Oh! releases, check out our calendar (see "'Yu-Gi-Oh!' Product Release Calendar for 2020/2021").
Click on Gallery below for full-size images!