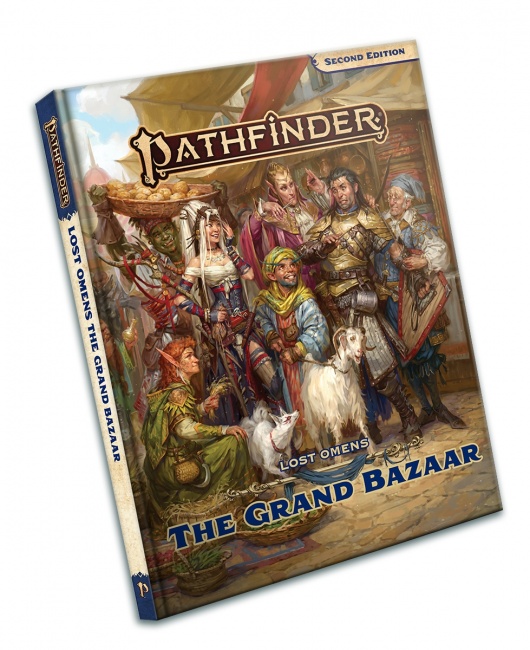 Paizo, Inc. revealed
Pathfinder Lost Omens: The Grand Bazaar
, a new campaign setting book, for release in September.
The Grand Bazaar is Absalom is a massive marketplace that attracts merchants from all parts of Golarion. This book contains new weapons, armors, magic items, accessibility items, new animal companions, and more. It also showcases unique merchants and shops for gamemasters to add to their campaigns.
Pathfinder Lost Omens: The Grand Bazaar was written by Tineke Bolleman, Jessica Catalan, Dominique Dickey, Dana Ebert, Steven Hammond, Dustin Knight, Avi Kool, Aaron Lascano, Carlos Luna, Ron Lundeen, Sydney Meeker, Randal Meyer, Jacob W. Michaels, Matt Morris, Andrew Mullen, Ianara Natividad, Dave Nelson, Jessica Redekop, Nathan Reinecke, Erin Roberts, Sen H.H.S, Simone D. Sallé, Shay Snow, Ashton Sperry, Amber Stewart, Sara Thompson, Isabelle Thorne, and Jason Tondro. It will retail for $34.99.
Paizo, Inc. also recently announced Lost Omens Mwangi Expanse , a new book for Pathfinder RPG , for release in June 2021 (see "Paizo, Inc. Announces 'Lost Omens Mwangi Expanse'").