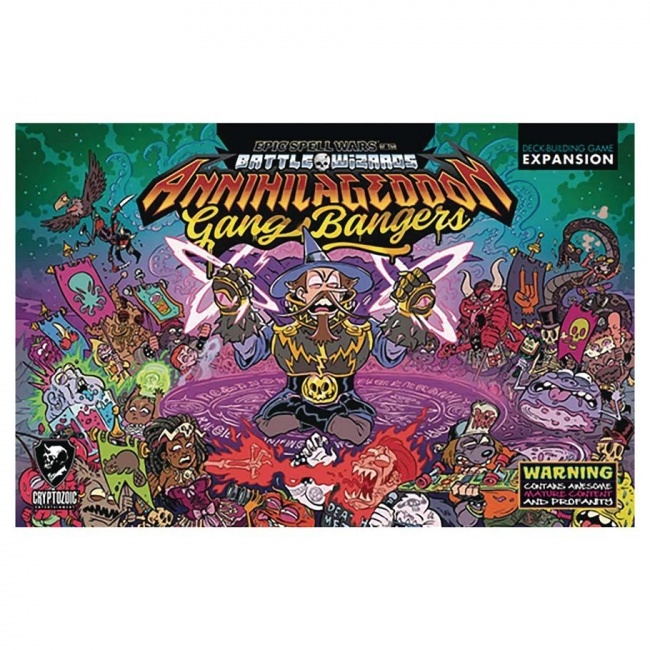 Update: Cryptozoic Entertainment has informed us that
Epic Spell Wars of the Battle Wizards: Annihilageddon - Gang Bangers Expansion
will be a Kickstarter-only product, although there will be a retailer level for the Kickstarter. The expansion had previously been solicited for release to retailers by hobby game distributors, and to consumers by Amazon.
"We have long been planning a summer Kickstarter campaign for the stand-alone sequel to Epic Spell Wars: ANNIHILAGEDDON," Cryptozoic Director of Product Development & Marketing Shahriar Fouladi told ICv2. "As dates slipped for the ANNIHILAGEDDON — Ganger Bangers expansion (due to COVID) and we gauged interest from the community, we realized it made the most sense for the expansion to be an exclusive for backers and retailers who support the Kickstarter."
This is the first expansion for Epic Spell Wars of the Battle Wizards: Annihilageddon, which came out in 2019 (see "New 'Rick and Morty' Game, 'DC Rebirth' Update, 'Cryptkins' Game, More"). Players can now be in charge of one of five gangs, like the aggressive and straightforward Merkin, or the more controlling and in-depth Kthulhu Kids. They have to meet their Gang's requirements by buying certain card types or inflicting damage on their opponents, and then, players can recruit Gangsters from their hideout to bolster their builds. Also, the expansion replaces the original 12 Legends from Annihilageddon with 30 new Legendary Treasure cards.
Epic Spell Wars of the Battle Wizards: Annihilageddon - Gang Bangers Expansion requires the base game to play.
[This article was updated with new information about distribution and release at 3:17 p.m. CDT, April 29, ed.]