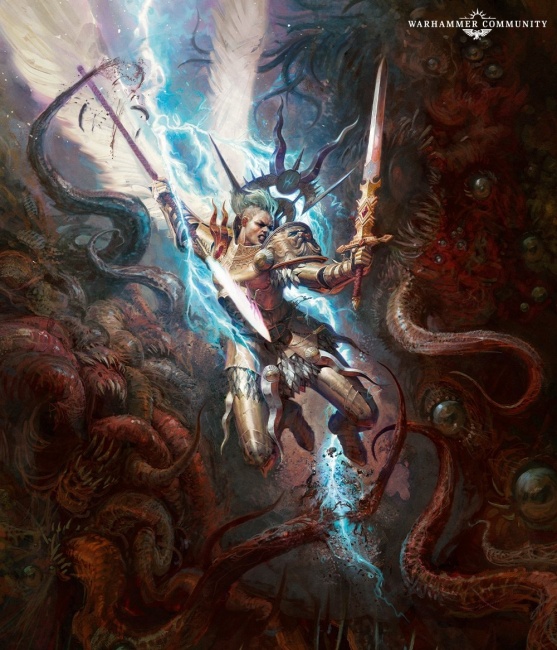 Games Worskshop announced a new edition of
Warhammer Age of Sigmar
, which will be coming soon to retail.
Warhammer Age of Sigmar 3E will introduce new protagonists, cities, Gods, and wars to this miniatures fantasy setting. The lore has been streamlined to focus on the theme that revolves around the realms having been overrun by Chaos and that the Age of Sigmar story is the fight to reclaim the realms. GW designers have also reformatted the rules so they are as clear as possible, and reworked rules on going first. Players that choose to go second during the battle round gain more Command points, which now have more uses. Designers have also retooled rules for Match Play to minimize downtime between turns.
GW also previewed new models for 3E, including Yndrasta, the Celestial Spear and the Stormcast Eternals. Yndrasta is a monster-hunting Celestial consumed by vengeance. She is carried into battle by her angelic wings and wields the Thengavar. The Stormcast Eternals have been reforged as a new generation of heavily-armored paladins.
Games Workshop recently announced the Warsong Revenants model, for use with Warhammer Age of Sigmar: Broken Realms (see "Games Workshop Teases New Sylvaneth Model for 'Warhammer Age of Sigmar: Broken Realms'").
Click on Gallery below for full-size images!