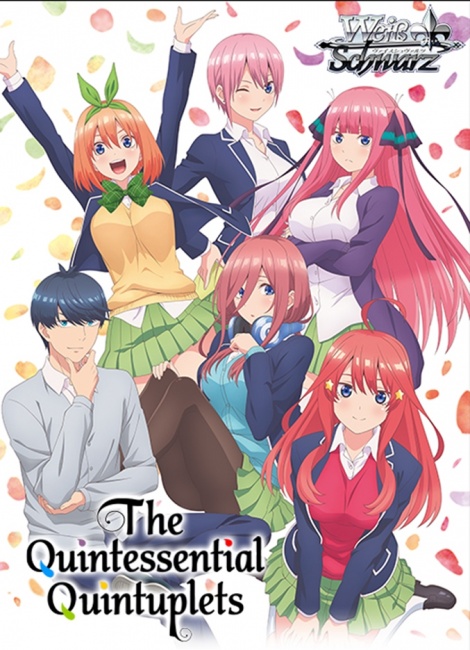 Bushiroad announced
Quintessential Set The Quintessential Quintuplets
and
Booster Pack The Quintessential Quintuplets
, for
Weiss Schwarz TCG
, for release on October 29.
Quintessential Set The Quintessential Quintuplets comes with all the varieties of cards from the Quintuplets' Trial Decks. Each set of pre-constructed decks has 26 guaranteed foils, which include one of five types of SP cards. Sets also has a chance of containing a voice cast signed card featuring Kana Hanazawa (as Ichika Nakano), Ayana Taketatsu (as Nino Nakano), Miku Itou (as Miku Nakano), Ayane Sakura (as Yotsuba Nakano), and Inori Minase (as Itsuki Nakano). Sets come with 361 cards, plus 20 PR cards for a total of 381 cards, and include 90 types of cards along with 30 parallels. MSRP for this set is $200.
Along with the set, they will release Booster Pack The Quintessential Quintuplets, which can be used in Neo-Standard decks. The booster set showcases 135 types of card and 55 parallels with packs containing 8 cards. Displays come with 20 packs, and 16 displays come to a carton.
Bushiroad will also release CardFight!! Vanguard OverDress: Lyrical Trial Deck 01 - Ahoy! Lyrical Monasterio this September, followed by Cardfight!! Vanguard OverDress: Lyrical Booster Pack 01 - Lyrical Melody in October (see "Bushiroad Sings A 'Lyrical Melody' in 'CardFight!! Vanguard'").