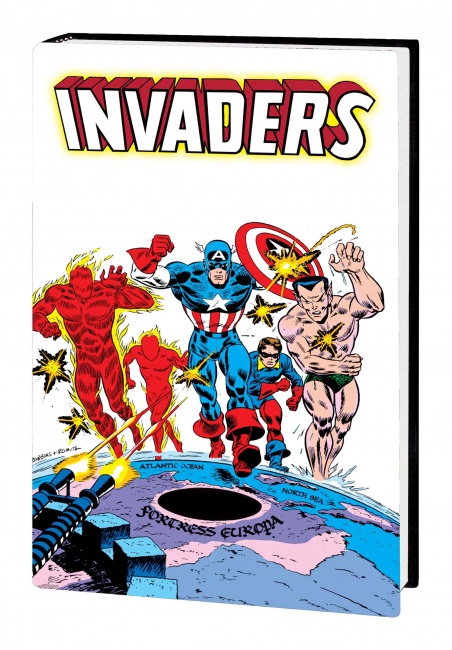 Marvel Comics revealed
Invaders Omnibus HC
, a 1152-page omnibus, for release into retail on February 23, 2022.
This Silver Age omnibus contains the tales of Captain America, the original Human Torch, Namor the Sub-Mariner and more as they battled their way through World War II. In their pre-Avengers days, Cap and his crew took on Nazi threats like Baron Blood, Master Man, Warrior Woman, and the Red Skull to save the world from the evils of totalitarianism. They were joined in the fight for freedom by Bucky and Toro as well as new allies like Union Jack, Spitfire and the Liberty Legion.
The omnibus collects Giant-Size Invaders #1-2, Invaders (1975) #1-41 and Annual #1, Marvel Premiere #29-30, Avengers (1963) #71, Invaders (1993) #1-4, What If? (1977) #4, Fantastic Four Annual #11, Marvel Two-In-One Annual #1, Marvel Two-In-One (1974) #20 and material from Captain America Comics #22. It was penned by Roy Thomas, Don Glut, and others with pencils by Frank Robbins, Jim Mooney, Alan Kupperberg, Don Heck, Sal Buscema, John Buscema, Dave Hoover, Lee Weeks, and more. The main cover features the art of Frank Robbins, and it will variant covers by Jack Kirby and Gil Kane.
Invaders Omnibus HC will retail for $125.00.
Marvel Comics recently release Captain America's Bicentennial Battles: All-New Marvel Treasury Edition TPB (see "Marvel Comics Celebrates Jack Kirby's Time-Bending Work on 'Captain America's Bicentennial Battles' with a New TPB").
Click on Gallery below for full-size images!