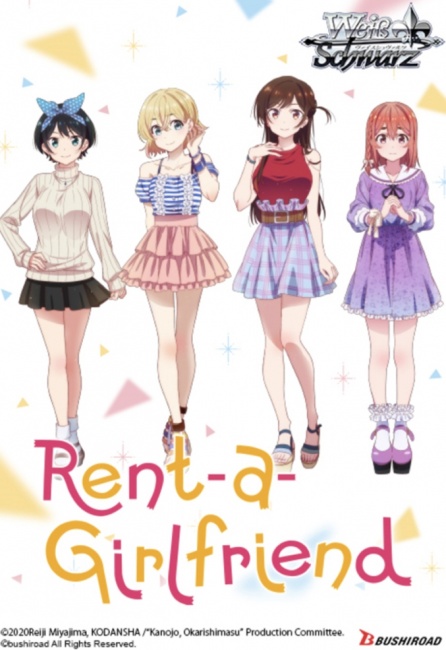 Bushiroad announced
Weiss Schwarz: Rent-A-Girlfriend Trial Deck+
and
Weiss Schwarz: Rent-A-Girlfriend Booster Set
which will release on February 11.
The Rent-A-Girlfriend Booster Set contains 100 types of cards, plus 36 types of Parallels. Rarity distribution has not been announced at this time. Booster packs have a chance of including a signed card by one of the animation's voice cast. Each booster pack contains 9 cards, with each booster box display containing 16 packs and one of four exclusive PR cards. Cartons contain 18 booster box displays and an English edition exclusive stitched playmat.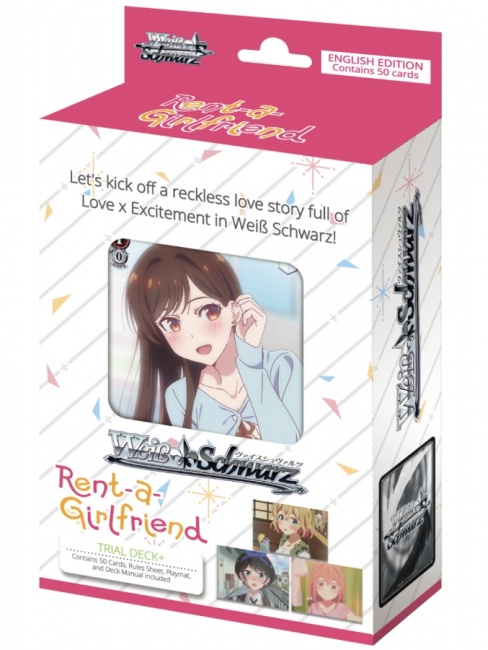 The
Rent-A-Girlfriend Trial Deck+
includes a 50-card deck, featuring 19 types of cards and 6 parallels. Parallel cards are randomly inserted and every deck will contain 2 shiny cards. Every deck includes a chance at one of three RRR cards with special embossing or a signed SP card. Decks include a rules sheet, paper playmat, and deck manual. Trial Deck+ displays contain 6 decks, with 8 displays per carton.
Bushiroad had previously announced Rent-A-Girlfriend among its upcoming release line-up (see "Bushiroad Sets The Stage For 'Weiss Schwarz'").