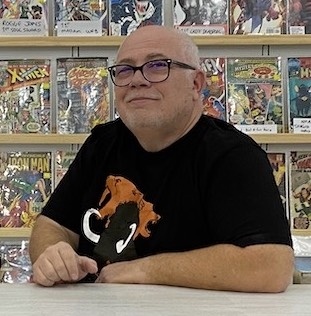 Ten years after it closed its doors, Arizona's Atomic Comics is back. The business, which at its peak numbered five stores, closed down in 2011. Now the original owner, Mike Malve, has partnered with two others, Scott Hagen and Joe Furman, to reopen Atomic Comics in a new location in Gilbert, Arizona. The new store opened the day before Thanksgiving, and Malve estimates they had between 1,200 and 1,500 customers that day. And they are just getting started: Although the store will be open through the holidays, Malve plans to have a real grand opening in February 2022.
ICv2: The reopening of Atomic Comics seems like an unusual event.
Malve: It is a little unusual, but I think everybody likes a redemption story. I think everybody's really pulling for us.
When I went out of business, everybody was like, hey, what is Mike Malve going to do next? A lot of people never brought up the question [of], what's Atomic Comics going to do next? That sort of just faded away. It never faded away for me because it's always been on my mind. But I have to be 100% honest, I never thought that Atomic Comics would be back. I thought someday I'd open a comic store again when I got older. I just felt like, you know, I could sort of semi-retire and open a comic store because it's my passion, my love. I wanted to do it again, not to do the redemption thing but just to do it for myself. To have a place that I love.
What was special about the original Atomic Comics?
It was a store that hosted some of the biggest events ever in the history of comics. Our rise was during the rise of comics. The 90s were crazy for comics, and Atomic Comics was really a big part of that. The culture of comics, all the cool stuff going on, you know, the boom of Image Comics.
When I opened up my first store it was right next to a movie theater. I've always from day one tried to find new comic fans, and that's what we get a ton of right away. Rock and roll in the store, skateboarding, other counterculture items, they all became part of Atomic and that's what made it a cool place to go to. The stores were really big, so they could host events. We did that for 25 years until we couldn't do it any more. There were a couple reasons why Atomic shut down, and that's been talked about over and over again. But you know, so when I got out of it, I just kept thinking, well, I'll just continue doing what I do. I'll do stuff in the periphery with comics. I was doing [book] trailers for all the publishers for the last 10 years.
I'm still involved, and I still talk to people on a semi-regular basis, but it's not the same thing. It's not just the comic creators and the publishers that I had a relationship with. When you're a comic store owner, you have a relationship with all your customers that come in and out of the store, and that's what I miss the most. That's what I crave. And I'd go to a comic book store every week and hang out. I'd talk to the owner, and I'd sit down, they'd pull out a chair for me. It was fun. I love that. I missed that.
In the end, you did open up Atomic Comics again. How did that happen?
One of my partners (his name is Scott Hagen) would keep approaching me about opening a comic shop again, and I said "If I open a comic book store again, I just want something I could go have fun with. I want something to make me happy and have fun. I don't want the big giant business plan with, you know, a store next to a movie theater. I really wouldn't mind just a small little comic store."
So we talked about it on and off for a year and a half, and I'd always find a way to talk myself out of it. And literally this summer in July, Scott came to me saying "Hey, I got a partner that's opening a comic store." He goes, "I'm not going to be involved with it unless you are," and I was like, "Well, let's meet. Let's talk." He introduced me to Joe Furman. Joe Furman's a younger guy, and he wants to open a comic store and asked if I would mentor him. I said, "I'm more than happy to because I've been doing it for the last 10 years anyway, with a lot of retailers over the country. I'm always willing to talk to them and see what I can offer in advice." And Scott said, "Well, we should just all get together and put a business plan together." We talked on and off for several weeks, and we came to the agreement that let's open a comic store, the three of us.
We found a beautiful location next to the Harkins movie theater complex. I cannot believe this location we got, and the rent was fantastic. And they sort of talked me into wanting to open a store like [Atomic] again, because this wasn't the grand design for me. [It was] let's just have a comic book store to say hi to people every week and talk about comics. Now that I have this big beast again, I gotta have events. I gotta do all the fun stuff. Now it's not just a comic book store. It's going to be just like Atomic Comics. So we talked about that. We talked about the name and we said "Let's just go with Atomic Comics," and that's how we came back to it, because the bottom line is this is a space that is made for events.
How many of your opening-day customers were old Atomic customers who were coming back and how many were totally new people?
[We had] a lot of kids, a lot of families, but so many of these people that came in were people that shopped at Atomic Comics. You could see it their faces. People were coming in and they were just ecstatic that Atomic was back. A lot of the people that I've seen, they were kids when they came to Atomic Comics. Now they're coming in with their kids, which is the craziest thing. They say, "I remember when I rode my bicycle to Atomic Comics, when I saw Batman in the movie theater right next door and then my dad and I came in and we bought comic books." And now they're doing the same thing with their kids.
What is different now? How is the store different from the way it used to be and how is the business different from the way it used to be?
Business was changing a lot, back when I stopped. The digital revolution was coming. Amazon and eBay [were] cutting into my sales numbers for sure. And I think what's happened is the pandemic over the last couple years actually helped the comic book industry. A lot of these comic stores have now become places where all these people who were out of work were trying to create a business that they could do from home, meaning go into the comic store and buy some comics and resell them online.
You mean people are buying back issues and reselling them?
New comics and back issues. A lot of it has to do with people grading comics and sending them to CGC or CBCS to get them graded. So they'll come in here and they'll drop money on back issues, because they think, "Oh, I paid $6 for this or I paid $20 for this, I then send this in to get graded, and this is a $100 book or a $200 book, if it gets the right grade, 9.8 or better." Then they put it up on eBay or an auction house and they're making money that way.
And then obviously the other big difference that has happened is all the different distributors. When I stopped doing business, I did work with tons of different vendors and suppliers, because one of my niches is finding deals and new items that nobody else has. But now you have to find multiple distributors, and that includes basically Diamond, Lunar, and Penguin Random House, because of what happened in the last few years with new comics. A lot of people relied on just one distributor, and now they'll all be trained that you have to use multiple distributors.
What is your product mix? Are you focusing on back issues, new comics, graphic novels, collectibles...
Because of the time frame and trying to open for the holiday, getting all our accounts turned on hasn't gone like clockwork. We're still working out terms to get our accounts open, then getting the orders set up, FOCs, so there were issues getting product in. And some distributors just aren't taking new clients. I don't have any sports cards. I have very little collectible card game stuff. I will get those things, but I now have to hunt it down. I used to have every manga there was, we ordered so much of it in quantity. I have very little manga, maybe less than 10 manga graphic novels in the store right now.
Is that's because the distributors aren't coming through?
They are out of them. They're on back order and they are sold out. So I was told just order the new ones. The new ones are coming in. And getting back stock has been tough.
There's the whole supply chain issue right now. I'm talking about all comics, graphic novels, toys… By February [the grand opening], the store will be fully stocked.
What is the bulk of your business at the moment?
We have to focus on what we have right now, so this isn't standard, but the majority of sales so far have been toys and the Funko Pop! line. Because of the supply chain issues, I bought a lot of giant storage bins of toys, so I have a lot of toys in the store that people haven't seen in 10 or 20 years. I don't remember that being a big focal point in the old Atomic days. In the old Atomic days it was new comics, graphic novels, and back issues, in that order. Now new comics have been my lowest selling item at the store, but again, it's because I don't have a lot of new comics.
When we get our Marvel orders, there was an X-Force book and you have all these incentives. And I'm like "Ah, just order 150 copies." And Joe and the others were looking at each other like, "150 copies? We have zero customers, Mike. We don't have any box holders." We sold half of those in the first weekend. I can't wait for us to actually have a full subscription service here.
Click Gallery for exclusive photos of the new Atomic Comics!