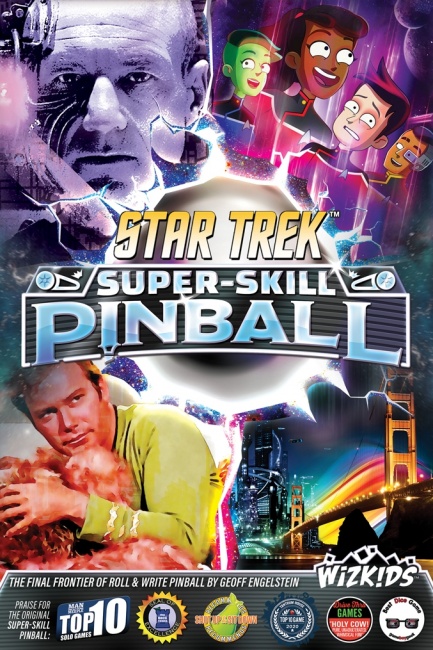 WizKids announced
Star Trek: Super-Skill Pinball
, a roll and write board game, for release on February 5, 2022.
Star Trek: Super-Skill Pinball is a new version of Super-Skill Pinball: 4-Cade, which was originally released in 2020 (see "'Super-Skill Pinball: 4-Cade'"). The new version features new and classic Star Trek characters and plotlines that can be triggers by hitting bumpers, drop targets, skill shots, and activating the multiball. It has four new tables. The Starfleet Academy is the basic table for training, as players try to beat the famous Kobayashi Maru scenario. The other tables showcase "The Trouble with Tribbles" episode, Star Trek: Lower Decks, and a Borg attack.
This game comes with 4 copies each of 4 different tables, 4 dry-erase markers with erasers, 8 Pinball tokens, 2 dice, and a rulebook. It supports one to four players, ages 12 and up, and plays in 45 minutes. MSRP for this game is $24.99.
Click on Gallery below for full-size images!