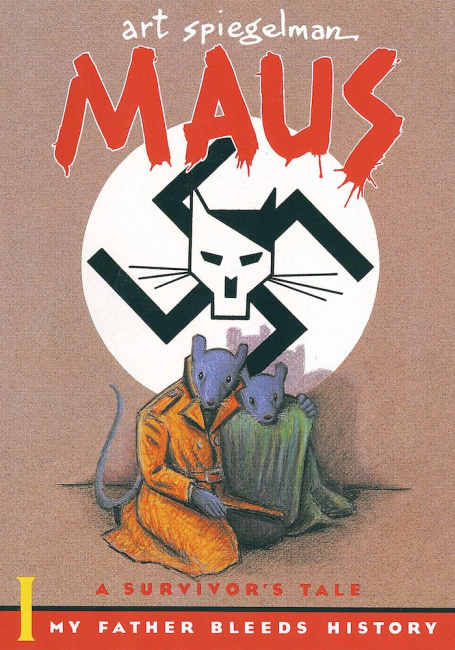 The McMinn, Tennessee, County Board of Education voted unanimously on January 10 to remove Art Spiegelman's Pulitzer Prize-winning graphic novel
Maus
from the eighth-grade social studies curriculum, despite testimony by three instructional supervisors that the book was essential to their lesson plan for teaching about the Holocaust.
According to the minutes of the meeting, Lee Parkison, Director of the McMinn County Schools, said he had received several complaints about "rough, objectionable language" as well as an image of a nude woman (the image is of Spiegelman's mother, who had committed suicide in the bathtub).
Steven Brady, one of the instructional supervisors, stated that the objectionable words had been whited out, and in fact, all the books had been stamped "Property of MCS" so that if an unredacted book showed up, they would know it was not one of theirs. The board's attorney, Scott Bennett, said that the redactions fell within the Fair Use exception to copyright and he was concerned that whiting out any more of the book would expose the district to legal action, unless they could get Spiegelman's permission.
Most of those present affirmed that it was important to teach students about the Holocaust, although board member Tony Allman commented "It shows people hanging, it shows them killing kids, why does the educational system promote this kind of stuff, it is not wise or healthy." (Allman also objected on the grounds that Spiegelman had once worked for Playboy magazine.)
"There is nothing pretty about the Holocaust, and, for me, this was a great way to depict a horrific time in history," said instructional supervisor Julie Goodin.
Nonetheless, the board members seemed to be fixated on the particular words. One board member, Mike Cochran, commented, "So, my problem is, it looks like the entire curriculum is developed to normalize sexuality, normalize nudity and normalize vulgar language. If I was trying to indoctrinate somebody's kids, this is how I would do it. You put this stuff just enough on the edges, so the parents don't catch it but the kids, they soak it in. I think we need to relook at the entire curriculum."
After discussing the matter, the board voted 10-0 to remove the book from the curriculum.
"I can't believe the word 'damn' would get the book jettisoned out of the school on its own," Spiegelman said in an interview on CNN, calling the board's decision "myopic."
The challenge is the latest in a wave of challenges to graphic novels and other types of books. Deborah Caldwell-Stone, Director of the American Library Association Office for Intellectual Freedom, told The Guardian that the ALA had been notified of 330 book challenges in the last three months of 2021, compared to 156 in all of 2020.