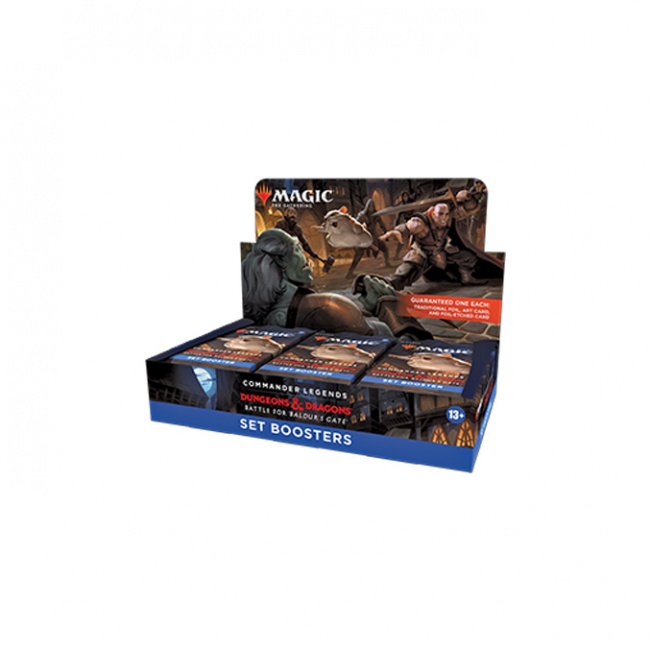 Wizards of the Coast released key retailer dates for
Magic: The Gathering Commander Legends: D&D Battle for Baldur's Gate
as well as updated product details.
Battle for Baldur's Gate is set to release on June 10, 2022, and is one of the more anticipated Magic sets of 2022. The first Commander Legends set was a major hit for WotC, topping the TCGplayer Top 25 Sealed Products Charts back in November 2020 (see "November 2020"). This second set is D&D-branded as well, which should give it an extra boost on the brand recognition end of the marketing scale (see "'Commander Legends: Battle for Baldur's Gate'").
The retailer key dates for this product are as follows:
Scheduling started on March 24, 2022
Distributor Lock-in Date: March 25, 2022
Marketing Kit Delivery (NA and Latin America): Beginning May 27, 2022
Promo Kit delivery: Beginning May 27, 2022
Prerelease Events: June 3–9, 2022
Launch Weekend Events: June 10–12, 2022
Also of note, WotC has also changed up a few things with this product line, particularly with their Set Booster displays. Set Boosters, for this release, will contain only 18 packs, whereas the Standard Set Booster box comes with 30 packs. Also, each Set Booster pack will come with a foil-etched card and a foil art card among the 15 cards found in the pack. Set Boosters are currently preordering on Amazon at $106.30 per box (about $5.91 per pack).