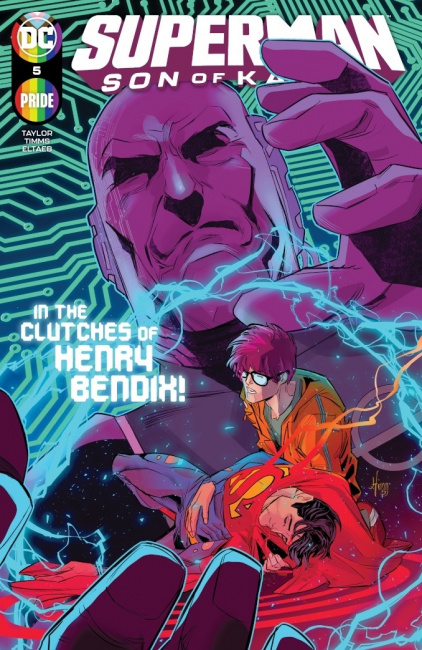 A California man admitted sending threats to DC Comics, an unnamed DC writer, and the website IGN.com, according to an
affidavit
filed by FBI Special Agent Casey Anderson in a case involving threats to the dictionary publisher Merriam-Webster.
The threats to DC and IGN began on October 12, 2021, the day that DC announced that Jon Kent is bisexual (see "Another DC Character Comes Out as LGBTQ"). IGN received eight communications that day, both e-mails and comments through its website, threatening violence and denigrating LGBTQ people. "I am going to shoot up and bomb your headquarters for discriminating against conservatives and silencing conservative speech," one of the messages read. "The only good Democrat is a dead Democrat. I will kill you all for discriminating against and silencing me for criticizing the radical homosexual agenda."
On October 16, a writer for DC (unnamed in the affidavit) reported receiving Facebook messages from a Facebook user named Jeremy Hanson threatening to kill him, rape and decapitate his wife, and blow up DC headquarters. The affidavit also states that several e-mail addresses associated with DC received e-mails with the subject line "I am going to shoot up and bomb your offices for ruining Superman" that contained several other threats.
In an interview with FBI agents on October 27, Hanson admitted to making threatening remarks online to IGN and DC regarding the sexual orientation of Superman. He also said that he suffers from a number of conditions, including "obsessive-compulsive disorder, Aspergers, anxiety, and depression, and he struggles with impulse control," and that while he knows making online threats is illegal, he is "unable to control himself or his emotions."
The affidavit also includes accounts of several interviews with Hanson's mother, who told investigators that her son had developmental disorders and had been stressed due to the coronavirus and changes in his medications. However, the affidavit paraphrased her as saying "he poses no threat to the community because he is reclusive, she supervises him, and he has no access to weapons."
Anderson filed the affidavit to support a criminal case charging Hanson with making threats to Merriam-Webster that caused the dictionary publisher to shut down its offices for five days. The affidavit also enumerated threats to the ACLU, Amnesty International, Hasbro Toys, Walt Disney, Inc., and others that the FBI traced to IP addresses, e-mail accounts, and a cell phone number that were linked to Hanson.
According to the U.S. Attorney's Office for the District of Massachusetts, Hanson has been charged with one count of interstate communication of threats to commit violence in the Merriam-Webster case. He was arrested in California on April 20 and released with conditions. He will appear before the federal court in Springfield, Massachusetts (where Merriam-Webster is located) on April 29.