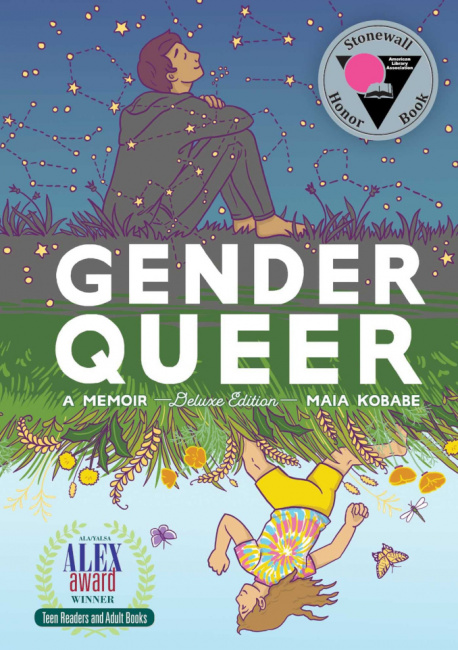 A Virginia Beach politician has filed a petition with the Virginia Beach Circuit Court that seeks to prohibit sales of Maia Kobabe's
Gender Queer,
as well as another book, to minors, and the judge in the case has found probable cause that the books are obscene. The story was first reported by the website
Book Riot
.
The petition asks the court to determine that the book is obscene. If the court does find that, it would be illegal to sell or distribute the book to adults or minors in Virginia.

Attorney Tim Anderson, who filed the petition that elicited the ruling, posted the court's response on his Facebook page and added "My client, Tommy Altman, has now directed my office to seek a restraining order against Barnes and Noble and Virginia Beach Schools to enjoin them from selling or loaning these books to minors without parent consent." Judge Pamela Baskervill issued the finding Wednesday, May 18, and the petition for the restraining order was filed the same day, according to court records.

Altman is running for Congress in the district that includes Virginia Beach. Anderson is a member of the Virginia House of Delegates and is running for re-election. A judge ordered Anderson to do pro-bono work in 2016 to avoid court sanctions for impersonating a federal bankruptcy court judge, according to WVEC-TV.

Asked for comment, a Barnes & Noble spokesperson said, "As booksellers, we carry thousands of books whose subject matter some may find offensive. We live in a diverse society, and that diversity of opinion is reflected in the books we carry on our shelves that cater to the wide range of interests of our customers. We ask that our customers respect our responsibility to offer this breadth of reading materials, and respect also that, while they chose not to purchase many of these themselves, they may be of interest to others." Barnes & Noble recently added a Banned Books section to its website and some of its physical stores; the books on that section of the website include not only Gender Queer but also New Kid, Persepolis, and Maus.

Gender Queer was removed from school libraries in Virginia Beach after the local school board overrode the recommendation of a review committee. The initial complaint was filed by school board member Victoria Manning, and the book was reviewed by a committee that included a high school student, the parent of a student, a high school librarian, and two other staff members, according to the Virginian-Pilot newspaper. After the committee recommended the book remain in the library, Manning appealed their decision (something that is apparently without precedent) and the school board appointed a working group, consisting of three school board members, which voted to remove the book. Manning has also filed a challenge to remove Brian K. Vaughan and Fiona Staples' Saga from school libraries.

Virginia has been a hot spot for free speech issues, specifically around Gender Queer, which played a big role in last year's gubernatorial election, won by Glenn Youngkin in a surprise upset of incumbent Terry McAuliffe. We reported on the situation in Virginia, threats to retailers nationwide, and strategies for handling challenges in an interview with Jeff Trexler, Interim Director of the Comic Book Legal Defense Fund, in April (see "CBLDF Interim Director Jeff Trexler").
This story was updated on July 1.