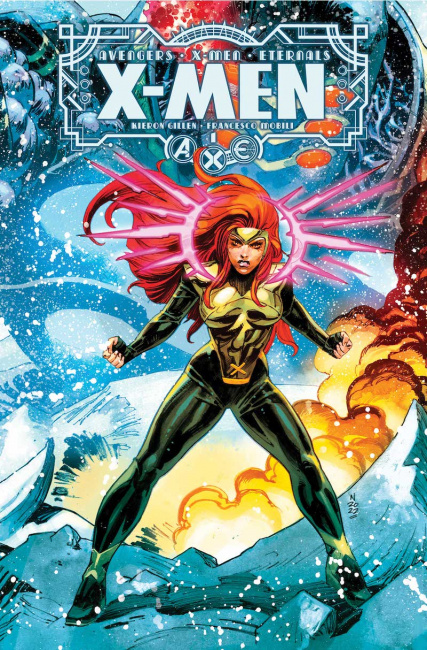 Kieron Gillen will write three one-shot comics that tie in to the A.X.E.: Judgment Day event that he and artist Valerio Schiti will launch in July (see "
Marvel Ushers in 'Judgment Day' Event
"). Each of the three one-shots will focus on one member of each of the factions involved in the crossover, and each will have a different artist:
A.X.E.: Avengers
#1, with art by Federico Vincentini, focuses on Iron Man as Tony Stark enters a suit of armor that could be fatal for everyone;
A.X.E.: X-Men
#1, with art by Francesco Mobili, delves into Jean Grey's relationship with the Phoenix Force; and A
.X.E.: Eternals
#1, with art by Pasqual Ferry, examines the choices Ajak has made in the past and how she plans to lead the Eternals to victory.
All three one-shots will have connecting main covers by Nic Klein and connecting variant covers by Salvador Larroca.
A.X.E.: Avengers #1 will be released on September 28, A.X.E.: X-Men #1 is scheduled for October, and A.X.E.: Eternals#1 does not yet have a release date. The three one-shots are designed to bridge the gap between the fifth issue of A.X.E.: Judgment Day and the sixth and final issue.
Click Gallery for covers!