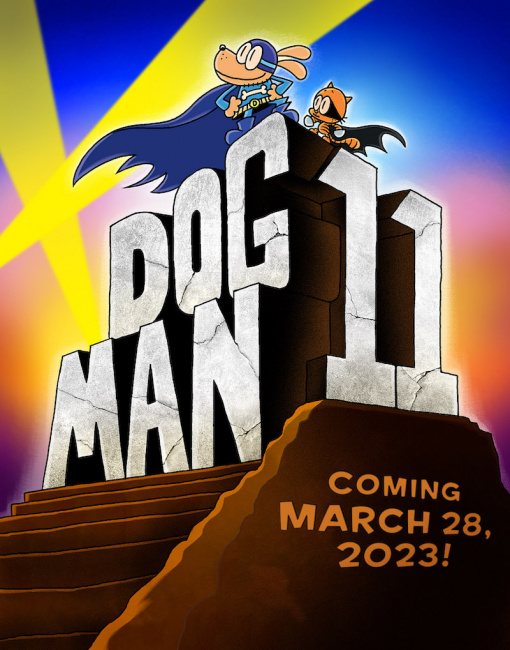 Scholastic has announced the 11th volume in the Dog Man series,
Dog Man: Twenty Thousand Fleas Under the Sea,
which will be published on March 8, 2023. It will come out two years after the last Dog Man book, an unprecedented hiatus for a series that used to come out twice a year. During that time, Pilkey turned his attention to his Cat Kid Comic Club books, three of which have been published since 2020 with another on the way (see "
New 'Cat Kid Comic Club' GN Due Out in November
").
Scholastic also teased the 25th anniversary edition of The Adventures of Captain Underpants, the first book in the illustrated chapter book series that gave birth to Dog Man. (The main characters in the Captain Underpants books, George and Harold, drew Dog Man comics in kindergarten, and in the final volume they read their old comics and decide to make more.) The special edition, slated for release on March 7, 2023, will include a bonus 32-page comic featuring both characters.
Along with the book news, Scholastic launched Dav Pilkey's Epic Comic Club, a COPPA-compliant online platform where children can create and upload their own comics.
Pilkey's Dog Man and Cat Kid books have been consistent best-sellers, and the price hike on new editions of the earlier titles doesn't seem to have hurt sales much (see "Full Year 2021 NPD BookScan – Top 20 Kids Graphic Novels").