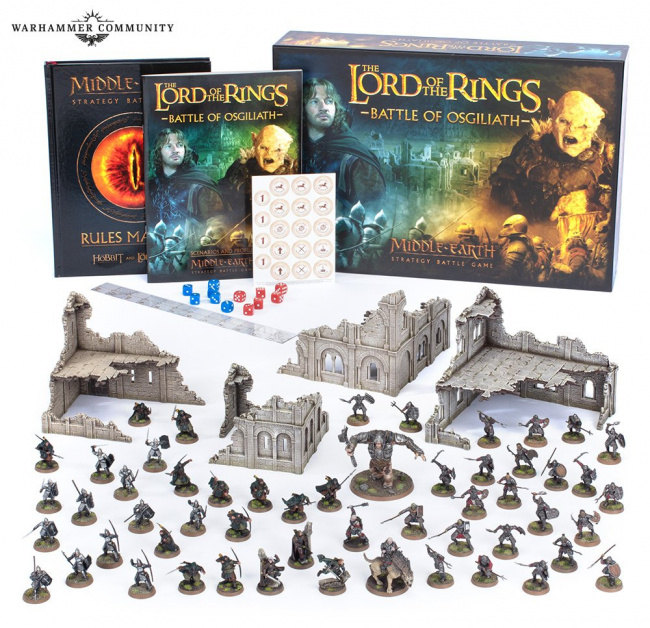 Games Workshop launched
The Lord of the Rings: Battle of Osgiliath
, a new miniatures boxed set for
Middle-earth Strategy Battle Game
, which will hit retail in December 2022.
This new boxed set features Faramir and the forces of Gondor battling it out with the Gothmog in the ruins of Osgiliath, the first capital of Gondor. The forces of Gondor come with 27 miniatures, including three new sculpts of Faramir, Madril, and Damrod. They are backed up by 12 Warriors of Minas Tirith and 12 Rangers of Gondor.
Gothmog, a lieutenant of Sauron, commands a force of 24 Morannon Orcs on the other side of the battlefield. They also have brought along a Mordor Troll to add some muscle to the battles. Along with the two forces, the boxed set includes terrain pieces, a rules manual, a scenario booklet, dice, tokens, and a ruler.
This product also features an advance preorder window that starts on September 10, 2022 and lasts through September 26, 2022. The longer preorder window is intended to help give a little bit of lead time on the Christmas season. The advance preorder window will be followed by a regular preorder window at the end of the year.
Games Workshop also recently unveiled Warhammer 40,000: Space Marine Heroes 2022 Set 1, a new set of miniatures blind boxes (see "Blind Boxes").
Click on Gallery below for full-size images!