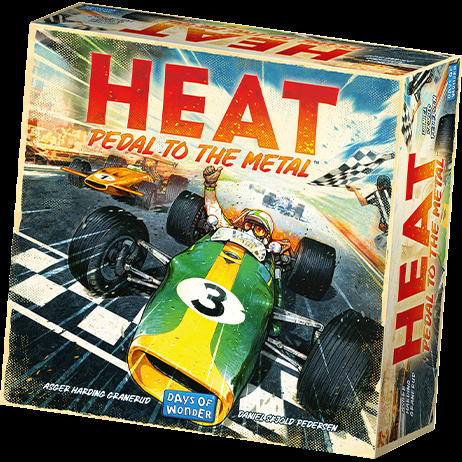 Days of Wonder unveiled
Heat: Pedal to the Medal
, a new Grand Prix racing game, for release in Q4 2022.
In Heat: Pedal to the Metal, players strap on their racing gear and rocket down straightaways to victory lane. This game's engine revolves around hand management mechanic as the race cars operate on a fixed deck of speed cards, stress cards, and a Heat card. Players will battle for position as they head towards the finish line, all while trying to prevent their car from overheating. This game can be played as a single race or as a whole season with the Championship System.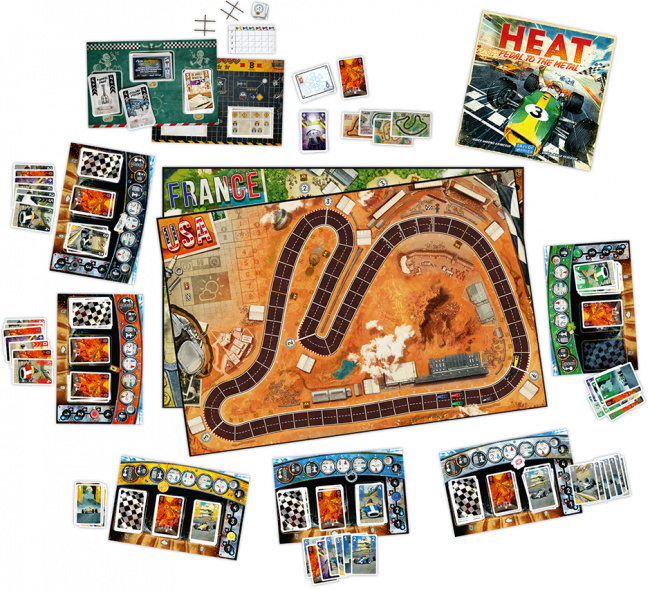 The game box comes with 2 giant double-sided boards (4 tracks), 4 Track cards, 6 race cars and matching Gear pawns, 6 player mats, 72 Speed cards, 48 Heat cards, 37 Stress cards, 114 Upgrade cards, 35 Sponsorship cards, 10 Legends cards, 10 Event cards, a Legends mat, a Championship mat, 6 Weather tokens,12 Road Conditions tokens, 2 Press Corner standees, a scorepad, and 2 rules booklets. This game is for one to six players, ages 10 and up, and plays in 60 minutes.
Days of Wonder also announced Ticket to Ride: Ghost Train, a new haunted edition of Ticket to Ride First Journey (see "'Ticket to Ride: Ghost Train'").