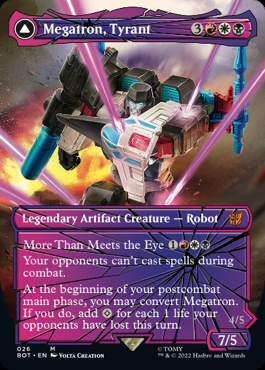 Wizards of the Coast will include
Universes Beyond Transformers
cards in packs of the upcoming
Magic: The Gathering Brothers' War
set. This set is scheduled to be released on November 18, 2022 (see "
'Magic: The Gathering - The Brothers' War' Product Line
").
The Transformers Magic cards will all be included in the set as mythic rares, and can be opened in Set and Collector Boosters in both foil and non-foil versions. These cards are included in 10% of Set Boosters, and come in a special Transformers Shattered Glass treatment in 12% of Collector Boosters. There are 15 different Transformers cards included, all set coded with BOT, and 14 of them come as a Shattered Glass version. Arcee is the only bot that doesn't come as a shattered glass version.
WotC has also released rarity breakdown information. The set consists of 101 commons, 80 uncommons, 63 rares, and 23 mythic rares, and 3 of those rares as well as 3 of those mythics are double-faced meld cards. The set also has 10 basic lands and 10 full-art mech treatment basic lands. As far as other card treatments available, there are 63 retro frame artifact cards and 63 schematic artifact cards included in the set.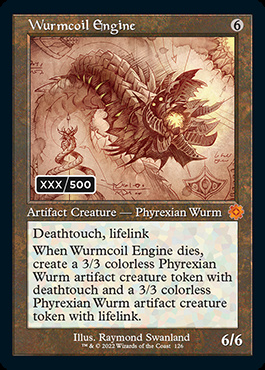 Additionally, each of the 63 schematic treatment cards come in serialized version, numbered 1 to 500. The serialized cards are double rainbow foil versions of the traditional foil card. The set also includes the usual array of borderless planeswalkers and extended art cards. The individual odds and rarity breakdown of different pack types is detailed in the gallery below.
Click on gallery for full-size images!