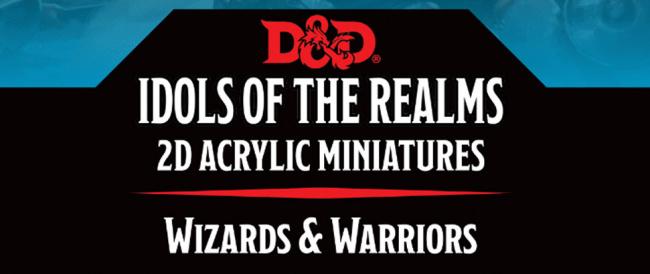 WizKids unveiled
Wizards & Warriors
and
Goblinoids
, two more
D&D Idols of the Realms
2D miniatures sets, for release into retail in June 2023.
WizKids continues its line of 2D miniature sets with these two new offerings. The Idols of the Realms: Wizards & Warriors - 2D Set comes with an assortment of player character class miniatures. The set features the following character types as 2D miniatures: Male Dwarf Fighter, Female Dwarf Fighter, Male Human Fighter, Female Elf Fighter, Male Dragonborn Paladin, Female Dragonborn Paladin, Male Halfling Rogue, Female Halfling Rogue, Male Elf Ranger, Female Elf Ranger, Male Human Cleric, Female Human Cleric, Male Tiefling Sorcerer, Female Tiefling Sorcerer, Female Elf Wizard, Male Elf Wizard, Male Gnome Wizard, Female Gnome Wizard, Male Human Warlock, Female Human Warlock, Female Half-Orc Barbarian, Male Half-Orc Barbarian, Female Half-Elf Bard, and Male Half-Elf Bard.
D&D Idols of the Realms: Goblinoids – 2D Set offers up some of the most used monsters in encounters as 2D miniatures. This set contains: 10 Goblins, 8 Bugbears, a Bugbear Chief, 4 Hobgoblins, a Hobgoblin Devastator, a Hobgoblin Warlord, and an Ogre.
Each set will retail for $14.99.
WizKids also revealed Beholder Hive and Lich Tomb , two more D&D Idols of the Realms 2D miniatures sets, for release into retail (see "'D&D Idols of the Realms' 2D Miniatures Sets").
Click on Gallery below for full-size images!