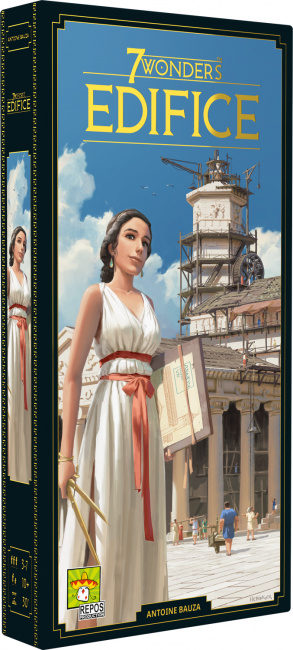 Asmodee and Repos Productions announced
7 Wonders Edifice
, a new expansion, for release on February 24, 2023.
The 7 Wonders Edifice expansion adds 15 new communal Edifice projects to the mix. Players can either join in to build the Edifices or ignore them to pursue personal glory. If they complete an Edifice, the players who worked on it will gain the rewards from their efforts. The expansion also adds two Wonders to increase the replayability of the core game.
The game box comes with 2 Wonder boards, 15 Edifice cards, 24 Participation pawns, 15 Debt tokens, 12 Military Conflict tokens, 3 Coins, a score pad, 3 Description of New Effects sheets, and a rulebook. This expansion supports three to seven players with the base game, is for ages 10 and up, and plays in 30 minutes. It will retail for $29.99.
Asmodee also recently released DreamQuest, a family game by Space Cow (see "'DreamQuest' for U.S. Retail").
Click on Gallery below for full-size images!