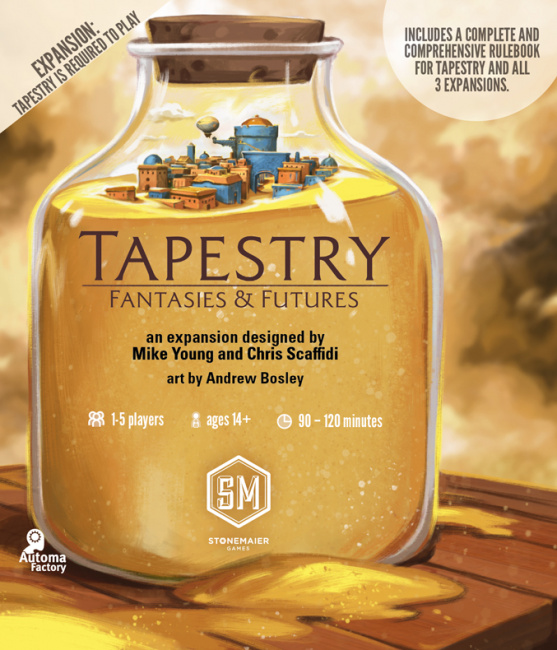 Stonemaier Games announced
Tapestry: Fantasies & Futures
, the final
Tapestry
expansion, which is coming to retail a few months after a March 2023 fulfillment of DTC preorder.
This expansion allows Tapestry players to build civilizations using fantasy and sci-fi inspired civs, technology, tapestries, and cities. Tapestry: Fantasies & Futures comes with 10 new civilizations, 6 advanced capital city mats, 38 new tapestry cards, 12 new tech cards, and a comprehensive rulebook. The rulebook includes all rules for Tapestry and its three expansions in one place. The new expansion was designed by Mike Young and Chris Scaffidi with artwork by Andrew Bosley.
The expansion is fully compatible to combine with other expansions and the core game. It can support one to five players, ages 14 and up, and plays in 90 to 120 minutes.
Stonemaier Games launched preorder for Wingspan: Nesting Box with Wingspan Asia Expansion, a modular storage box last year (see "'Wingspan: Nesting Box' ").