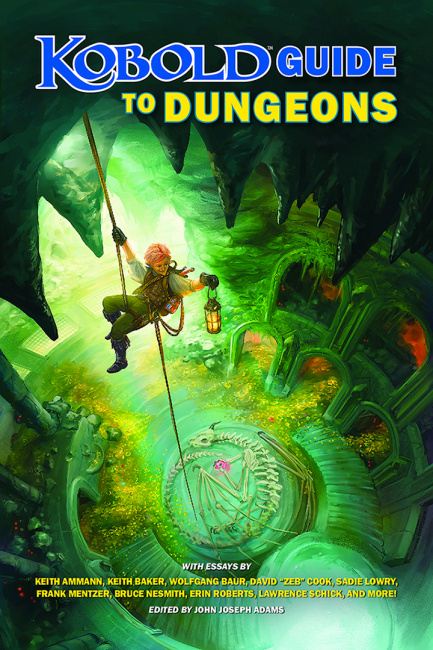 Kobold Press will be releasing the
Kobold Guide to Dungeons
on May 24.
Continuing the company's line of Kobold Guide resource books, the Kobold Guide to Dungeons is a 100-page volume with tips, tricks, and insight to help gamemasters improve their dungeon settings for tabletop roleplaying games.
Featuring essays from veterans of the hobby including David "Zeb" Cook, Frank Mentzer, Lawrence Shick, Keith Ammann, Keith Baker, Wolfgang Baur, Bruce Nesmith, Dominique Dickey, Sadie Lowry, and Erin Roberts, the book has ideas for creating non-linear dungeons, how to visualize and use three-dimensional spaces, and guidelines for making interesting dungeon rooms that do not rely on monsters, as well as equitable ways to award treasure to successful adventurers.
MSRP for the softcover book will be $19.99. It is suitable for use with any tabletop roleplaying game.
Kobold Press recently offered a sourcebook about magic for use with 5E (see "Kobold Press Reveals 'Deep Magic 5E' for Retail").