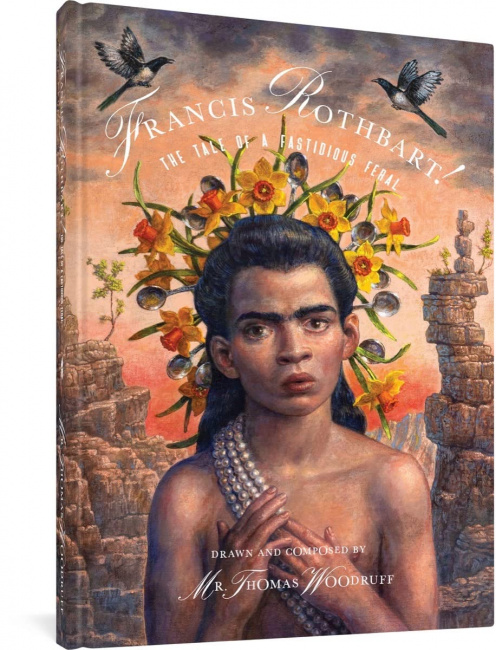 Thomas Woodruff has removed his graphic novel
Francis Rothbart! The Tale of a Fastidious Feral,
published by Fantagraphics, from consideration for the Eisner Awards. The book had been nominated in the Best Graphic Album—New and Best Publication Design categories, and Woodruff had been nominated in the Best Painter/Multimedia Artist (Interior Art) and Best Lettering categories (see "
2023 Eisner Nominees
").
In response to a query about the book, Fantagraphics forwarded this statement from Woodruff:
I have decided to respectfully decline the four nominations for my book, Francis Rothbart!, from this year's Eisner awards. I greatly appreciate the people at Fantagraphics and the Eisner Organization for their support of my metaphorical comics fable about an outsider and his struggles for acceptance in a hostile society. My graphic album being recognized by the panel of judges is a wonderful honor. I wish the best to all of the deserving and talented other nominees, and I applaud their achievements.
Francis Rothbart! had not been widely discussed or reviewed in the comics press prior to the nomination, but once the news came out, former students at the School for Visual Arts in New York City, where Woodruff was the head of the illustration and cartooning departments, came forward on social media with public allegations of racism, emotional abuse, and mistreatment. Social media posts also criticized the book, the story of a brown-skinned feral child, as racist in its conception and the Eisner organization for choosing an all-white panel of judges. A petition to remove the book from consideration garnered 760 signatures.
Prior to the withdrawal of the title, both Fantagraphics and Woodruff had responded with statements to an article at The Beat recounting some of the charges. Woodruff defended his time at SVA, and of his teaching style, he said, "In working with students, my frank critiques were intended to help them develop keen minds and strong spines." Noting that he's an openly gay man, he says of Francis, "In my work as an artist and educator in my over 40 year career, I have attempted to help break and blur some cultural barriers that are still deeply enmeshed within our present day society.... Francis challenges the torches and pitchforks, he is stronger than the misunderstandings, the bullying, and the hate."
Fantagraphics defended the book, describing the title character as "an avatar of innocence, devoid of savagery, attempting to survive." The Fantagraphics statement concluded with the character as metaphor for attacks on the book. "With all his attempts to fit in, his mother-figure is stoned to death by a gang of intolerant thugs; and in the ending sequences, the townsfolk come after him with pitchforks and torches," the statement said. "In our current culture where the 'other' is constantly under attack, and creative, challenging, and underground art is being maligned and banned, this story seems eerily prescient."
Note: Updated with quotes from Fantagraphics and Woodruff, 6:30 CT May 27, 2023.