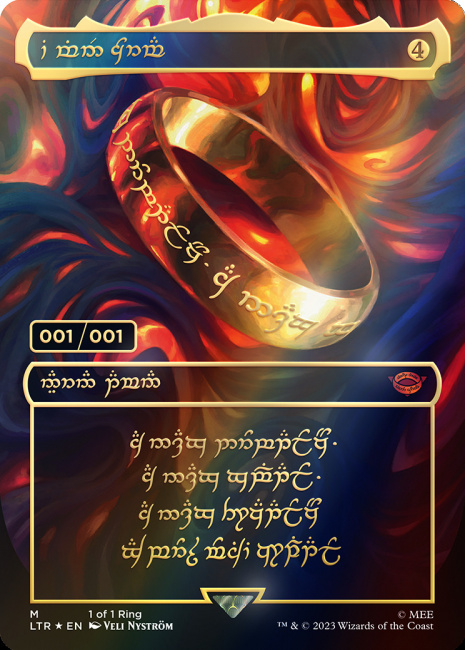 Gremio de Dragones ("Guild of Dragons" translated) game store is offering over $2 million and more for The One Ring 001/001 card, which can be found in
Magic: The Gathering Universes Beyond - Lord of the Rings: Tales of Middle Earth
Collector Boosters (
correction 6.13.2023 from "$2 million;" original offer was €2 million which converted to $2,159,950.00 on day of article's publication, apologies
).
A Spanish game store has topped Dave and Adams' $1 million dollar offer on The One Ring 001/001 (see "
First Million Dollar Card
") by doubling it. Not only did Gremio de Dragones more than double the offer, they added in a trip, a stay, and delicious Valencian paella, which is one of the famous versions of Spain's national dish. The offer lasts for a limited time, and Gremio de Dragones reserves all rights.
With English
Tales of Middle Earth
Collector Boxes sitting between €380 to €400 (about $408 to $431) at EU online dealers (several of which are sold out already), the move by this European game shop to tempt The One Ring to travel overseas, if found, is a solid one. The odds of finding The One Ring 001/001 are very low to begin with (see "
The One Ring Retailer Chat
"), but Europeans may have an even tougher time finding it because The One Ring is only found in English Collector Boosters which are likely in shorter supply there with high demand.