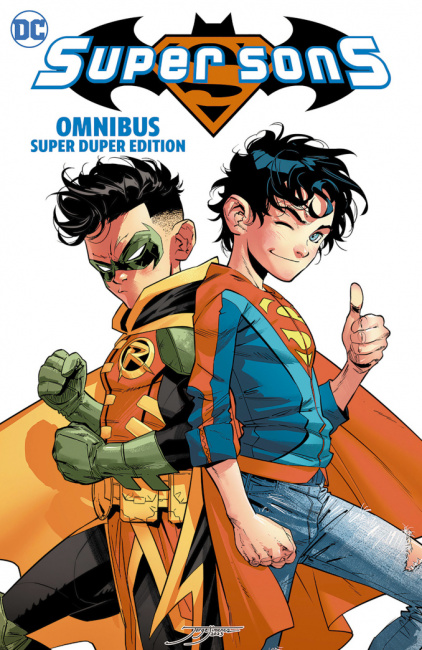 DC Comics will release
Super Sons Omnibus Super Duper Edition
, collecting Super Sons storylines from a variety of titles, in October. The stories feature the sons of Superman and Batman, trying to live up to their family names. This new omnibus includes 1056 pages, over 70% more than the non-Super Duper
Super Sons Omnibus
from 2018.
Super Sons Omnibus Super Duper Edition
will collect
Super Sons
#1-16
; Super Sons Annual
#1;
Super Sons/Dynomutt Special #
1;
Adventures of the Super Sons
#1-12;
Challenge of the Super Sons
#1-7;
Superman
#10-11, #37-38;
Teen Titans
#15; and a story from
Robin 80th Anniversary 100-Page Super Spectacular
#1.
The stories are written by Peter J. Tomasi and Patrick Gleason, with art by Patrick Gleason, Jorge Jimenez, Carlo Barberi, and others. The cover is by Jorge Jimenez.
The hardcover will be released on October 31 at $125 MSRP.