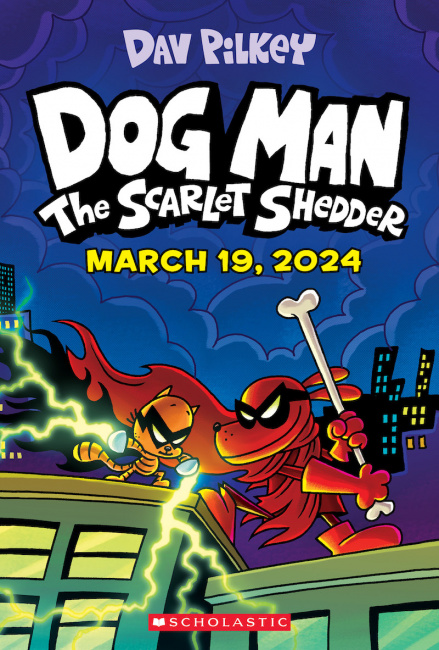 Scholastic has announced that the 12th book in Dav Pilkey's best-selling Dog Man series,
Dog Man: The Scarlet Shedder,
will be published on March 19, 2024.
In new the story, Dog Man is sprayed by a skunk and takes a tomato juice bath, which makes the smell go away but leaves him dyed red. Shunned by his community, he nonetheless rises to the challenge when an unseen villain sets loose an army of robots with artificial intelligence. Meanwhile, his friend Petey returns to his criminal ways in hopes of saving Dog Man.
The latest Dog Man book, Dog Man: Twenty Thousand Fleas Under the Sea, is the best selling children's book in North America so far this year, and it has topped the Circana BookScan children's graphic novel chart since its release in March 2023 (see "July 2023 Circana BookScan").
Another Pilkey title is in the works for later this year: Cat Kid Comic Club: Influencers, the fifth volume in that series, will be released on November 28, 2023. The Cat Kid Comic Club books are also best-sellers in the kids' graphic novel category.