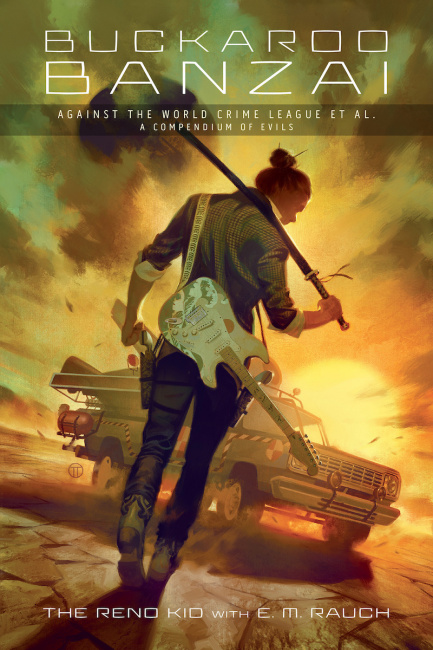 Dark Horse Comics has announced it will publish a trade paperback edition of
Buckaroo Banzai Against the World Crime League, Et Al: A Compendium of Evils,
a prose sequel to the 1984 sci-fi comedy
The Adventures of Buckaroo Banzai Across the 8th Dimension.
The novel is by E.M. Rauch, the creator of Buckaroo Banzai and the screenwriter of the film. Dark Horse first published the 624-page novel as a hardcover in 2021, and now they are releasing it as a trade paperback with a 6" x 9" trim size and an MSRP of $19.99. Release date is May 21, 2024, in bookstores and May 22, 2024, in comic shops.
The novel, narrated by the Reno Kid, follows the adventures of physicist, neurosurgeon, test pilot, and entertainer Buckaroo Banzai as he fends off his nemesis, Hanoi Xan, leader of the World Crime League, as well as the Lectroids from Planet 10.
The Adventures of Buckaroo Banzai Across the 8th Dimension
was not a commercial success when it was first released, although it has attained cult status since then. Rauch wrote a prose novel adapting the film, which was published in 1984 and reissued in 2001, when the film was released on DVD. Marvel Comics published a comics adaptation in 1984, and in 2006-11, Moonstone published several Buckaroo Banzai comics, with new stories, written by Rauch (see "
New 'Buckaroo Banzai,' 'Flint' Series
"). In 2016, Kevin Smith announced a new television series based on the movie, but he withdrew from the project after learning that MGM was suing Rauch and the director of the film over rights (see "
Kevin Smith Pulls Out of 'Buckaroo Banzai' TV Series
").