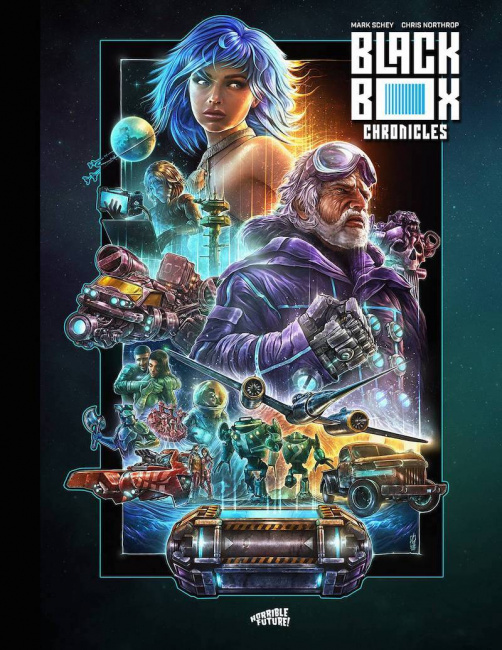 The hard sci-fi anthology
Black Box Chronicles
and the companion artbook
Black Box: Design Space
are coming to retail after a successful Kickstarter campaign that raised over $100,000. Both books, which are published by Magnetic Press, are at the center of a multimedia story about space exploration that is assembled from records left in the wreckage of interstellar spaceship. The multi-platform franchise will include prose, comics, art books, and RPGs, all telling stories set in a shared universe created by Mark Schey and Chris Northrop, the founders of the content production team Horrible Future!
Black Box Chronicles is a collection of comics co-written by Schey and Northrop, with contributions by David Mack, Michael Avon Oeming, Zach Howard, Eryk Donovan, Marco Fodera, Gavin Smith, Toru Terada, David Messina, Giovanni Rigano, Drew Moss, Christian Dibari, Taki Soma, Mario Alberti, Sarah Baslaim, Flavio Dispenza, K. Michael Russel, and M. Sean McManus. The 172-page, full color paperback will be released to retail on November 15, 2023, with an MSRP of $19.99.
Black Box: Design Space, illustrated by concept artist Shane Molina, is an artbook collecting paintings and schematics of the spacecraft and other technology that appears in the story. The 96-page hardcover, with spot UV foil, will be released on November 15, 2023, with an MSRP of $24.99.
Magnetic Press published a Lupin the 3rd artbook and tabletop RPG to commemorate the 50th anniversary of the manga and anime franchise (see "Magnetic Press Teams Up with TMS Entertainment and Monkey Punch Studios").
Click Gallery for covers and artwork!